Josh Akognon: The super story of a super talent
04/25/17, Idorenyen Uyoe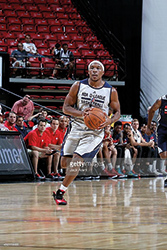 Akognon is seen here mixing it up at the NBA D-League
Basketball star Josh Akognon is among a growing list of sports stars around the world, who were either born in their adoptive country to African parents, or have at least one parent from Africa. This new generation of athletes is dominating the global sports landscape, forcing an honest conversation on why Africa continues to produce talents, yet is unable to develop a world class sports league of its own. Akognon is a Nigerian-American star who has played basketball at the highest levels of the game, including the American National Basketball Association, NBA, widely considered the best basketball league in the world. He was one of the dominant stars on the Nigerian Olympic team in Brazil in 2016. Currently, Akognon lives in China and plays in the Chinese basketball league. He recently shared his perspectives with Africa Today's Contributing Editor Idorenyin Uyoe . He talks about his playing career, family, developing the game in Africa, and his preparation for life after basketball.
Africa Today: Where are you from originally and where did you grow up?
Josh Akognon: My father is from Lagos, Nigeria and my mother is from Marin County, in California. I was born and raised in Petaluma, California, which is about one-hour drive from San Francisco. After high school, I was offered a scholarship to play basketball at Washington State University, located in Pullman, Washington (about four and half hours from Seattle). But after two years at WSU, I found that I needed a different style of play which better compliments my skills, so I transferred to California State University, Fullerton for the final two years of my collegiate playing career. I graduated in 2009 with a degree in African American Studies.
Africa Today: After playing at the university level, I assume you turned professional? Please take us through your professional basketball career.
Akognon: Yes, I was told by my agent at the time, that I would be drafted by a team in the National Basketball Association, NBA, which is the American professional basketball league. But during the draft process, I did not hear my name called, which was very disappointing. I then went to play in Estonia, in Europe, next to Russia, for their eight-month season. At the conclusion of their season, I returned home to California, but was then asked to try out for a Chinese team. At that time, I did not know anything about the Chinese basketball league, or China as a country. They just asked me if I was willing to make $25,000 a month, and I said of course I was. So I ended up going to Guangzhou China, which is in the Southern part of the country, about two hours' drive from Hong Kong, and I played there for two years. Then I came back home and got a chance to play briefly with the Dallas Mavericks of the NBA, after which I returned to China, this time to Northern China. After the Chinese season ended, I came back to the NBA and finished the final month of the NBA season with the Dallas Mavericks. This was in 2013. I have also tried out for the NBA's Memphis Grizzlies, and have played in the NBA's Developmental league, also known as the D-League, with the Delaware 87'ers. In Europe, I played in Partizan, Serbia, which was a very nice city with an amazing fan base. This was an incredible basketball experience for me.
Currently, I play in China with a team in Jilin, near Beijing.
Africa Today: When you weren't initially drafted into the NBA despite being told you would be selected by one of the teams, how did that make you feel?
Akognon: On draft night, I was sitting in my bedroom with my fiancÚ, who is now my wife, and we were watching the draft on television. My parents, brother and uncle were in the house downstairs also watching. When they got to the point in the draft where my agent told me I would be selected and I did not hear my name, honestly, I just started to cry. I lost all desire to play basketball and was just very sad. My fiancÚ, who has been with me from the time I was a first year student at Washington State University, provided much needed encouragement, advising me to use this disappointment as motivation to show that I can, in fact play basketball at the highest level. After sulking a bit, she helped me regain focus and turn the corner.
Africa Today: So what was the plan going forward after that moment? How did you prepare for the next step?
Akognon: My agent told me to focus on the summer league, and to get ready to play for the Toronto Raptors. However, one of the players for the Raptors decided to return to the team, and as a result, I did not get to play for them as my agent promised. That was when I sacked him, because he had now made two big mistakes which impacted my career. The first, was not giving me realistic advice prior to the NBA draft. And then there was this issue with the summer league. He had to go. I ended up signing with another agent, Marc Fleisher, who helped me get my first contract in Estonia.
Africa Today: You mentioned your father is from Lagos. Have you been there yourself?
Akognon: Yes, I was there once. Five years ago, I played for the Nigerian National Team and we trained in Lagos ahead of the World Championships in Japan.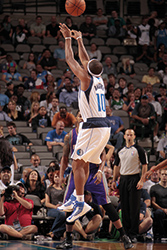 Josh Akognon was a member of the Nigerian basketball team to the Rio Olympics
Africa Today: Josh, you're 5'11" and extremely athletic. You could have played any sport you wanted. Why did you choose basketball?
Akognon: It's interesting. I actually hated basketball growing up all the way to high school, and my brother and I, used to play American football. My father tried to get me involved in soccer, and I just didn't like it. We always trained for American football. One of my best friends took me to a basketball camp near my home one summer, and the people there introduced me to a basketball coach, who saw potential in me as a basketball player. I wasn't even taking it seriously to be honest, but the coach worked me out that summer and before I knew it, I was playing for my high school team. To this day, I still work out with the coach, Jeremy Russotti when I'm back home in California. This is 15 straight summers now I have been training with Coach Russotti, though he has never coached a team I have actually played for. He is the first person who saw potential in me as a basketball player and helped develop my talent.
Africa Today: At what point did you know you had the talent to play with the best basketball players in the world?
Akognon: I was playing in the summer league with the Sacramento Kings and we were playing against the Los Angeles Lakers in a place called Cox Pavilion, and I remember being very nervous at the time. I took my first shot, and it was a clean "swish" through the basket, and at that point, the nerves left, and I knew I could play this game with the best of them. I finished that game with 25 points, and my agent called me and told me several teams from leagues from around the world were calling him to inquire about my availability. So I went from being an unknown player, to someone sought after, virtually overnight. This was in 2011-12.
Africa Today: What are your experiences as a black athlete and a black person, in China?
Akognon: When I first got here, I heard so many stories about China, and how I would be perceived. But many of those stories are unfounded. When the Chinese see you, they kind of stare at you; want to take pictures, etc. I have been here with white people as well, and they experience the same thing. I think they're fascinated by anyone who's not Chinese. They're always smiling and laughing and asking for autographs. They are really a loving people. They have their own culture and way of doing things, so once you understand that, you're fine. Truly, there is nothing different about being a black person in China. They have accepted me here as one of their own.
Africa Today: You mentioned earlier your Chinese team promised to pay you $25,000 per week. Were they able to fulfil that promise to you?
Akognon: Yes, they were. That was my first year. I now make $200,000 per month.
Africa Today: Nice! In Africa, soccer is king as you know. Why do you think young Africans have not embraced basketball more than they have?
Akognon: I really believe that if the teams in Africa were able to put up the kind of money that the NBA or Euroleague or Chinese league pay, they would be able to attract the type of players required to make an African league thrive. African youths would be able to see the best players up close, and start to see there is a good living to be made by playing basketball, and they would take the game much more seriously. But if money keeps going into soccer, then that's where the interest will stay. The moment the money goes up for basketball, the interest will go up with it.
Africa Today: Growing up, you had a chance to see African players in the NBA. Why do you think Angola and Mali dominate basketball on the African continent?
Akognon: My first year playing for the Nigerian National Team, the first thing they told me was that they want to put together a basketball program where the players stay and train together for 6-7 years, like they do with the Angolan basketball programme. This allows us to understand one another's tendencies on the court and style of play like the Angolans do. We were together as a national team for three weeks when we played Angola and we literally, did not even know the surnames of our own teammates. After three weeks they brought in new people and so on. There was no consistency like the Angolan program has.
In 2008, we were training in Houston with the Nigerian National Team, and had a chance to spend time with Hakeem Olajuwon. He took us to his gym, where we played a charity basketball game, and then afterwards, he took the team out to eat. He told us the pride of Nigeria is to beat Angola in basketball, and that win or lose, we should represent our country proudly and take the game seriously. Hakeem's words stuck with all of us.
Africa Today: Nigeria's D-Tigers are now the reigning African Champions. What do you think fueled this success?
Akognon: I think it is pride. The National Team officials continue to call me to come join their roster, but for me, their invitation always seems to clash with other career objectives. For instance, my goal is to return to the NBA, so their call usually conflicts with something NBA related. My heart was no longer in with the national team. When I first played for Nigeria, I was in college with no other responsibilities, and I just wanted to play. I have yet to play for Nigeria as a professional.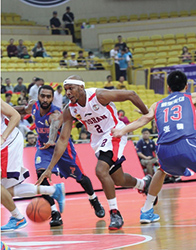 Africa Today: How much is this loss of desire to play for the National Team, due to the fact that you did not grow up in Nigeria?
Akognon: I think it is a very big factor. But at the same time, the love that I have for my dad is such that I felt I was playing for him. The pride I saw in his face when I told him that I made the Nigerian National Team and was going to represent Nigeria in the championships in Japan was incredible. He loved it when I would bring him my Nigerian team jersey. A couple guys on the team would teach me a few Yoruba words, and I would call home and talk to him in my "newly discovered" Yoruba language, and just listening to the way he would laugh when he heard it was very rewarding to me. Being on Nigeria's National Team was very big for him and really helped me as well. Now that I have met some of my uncles in Nigeria and other relatives, I know it would be so much different now. I would definitely have played for Nigeria again if my schedule had allowed it. (He played for Nigeria in the Rio Olympics)
Africa Today: What year did you first go to Nigeria?
Akognon: 2008
Africa Today: When you were growing up, who were your African role models that you looked up to?
Akognon: The Nigerian Nightmare, Christian Okoye, who played American Football, was someone we always loved to watch growing up. Of course, Hakeem as well. Though he didn't play the guard position on the basketball court like I do, Hakeem had guard like moves playing the centre position, so we loved him.
Africa Today: What kind of charities and causes are you involved with as you travel the world?
Akognon: The first one closest to my heart is the Better Africa Foundation that my dad founded. Second, is Green Solar, which tries to bring light to people in Africa. I have invested in those two causes and play an active role in them. There are some homeless charities in my home city of Vallejo in California, where we feed the homeless and provide other types of assistance to people in need. For me, those are the top three.
Africa Today: Have you seen results from your work with these charities?
Akognon: Yes, I have. My dad sends lots of photos to me here in China, of people who have benefited from our collective efforts with these programs. Since I am so far away in China, I depend on these photos to know how things are going with the charities. I am satisfied we can make a difference in people's lives in our own way.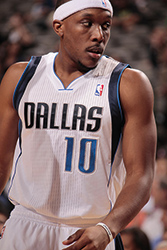 Akognon has been on the Dallas Mavericks team too
Africa Today: What's next for Josh Akognon? How much longer do you want to play basketball?
Akognon: In the summer of 2015, I got my fire back after returning from injury. As I mentioned, my goal is to get back into the NBA. I am hoping I can play for another seven or eight years, but I now have a wife and two small children, so I have already started planning for life after basketball. I have been reading books on how to manage a successful business and I have been carefully considering investment opportunities which make sense for me and my family. I don't want to rashly jump into anything right now. I have accountants, CPAs, lawyers, etc., so we're taking our time in making business related decisions. I plan on using the relationships I have developed through basketball, to expand those business opportunities.
Africa Today: Can you share a little about your personal life?
Akognon: Yes, I said earlier I have a wife and two children. My son is five and my daughter is two. I chose not to bring my family with me to China, so they are back in the US. I also have an older brother and a younger sister.
Africa Today: Do you eat Nigerian food? What is it about Nigerian culture that fascinates you?
Akognon: My top two Nigerian foods are eba and jolof rice. My dad cooks them for me every time I come home to California ... I make sure of it. I just love the food. There are also things I don't really like, such as plantain or okra soup, and my dad, thankfully, never forces the issue. He makes another thing we call "red" stew, which I like quite a bit, and I eat that with Eba.
Africa Today: Do your American wife and children also eat Nigerian food?
Akognon: My kids love Nigerian food. My wife didn't really like it in the beginning when we were dating, but after we were married, she started eating red stew with the rest of us. Being from America, she didn't know how to handle the eba initially, but we showed her, and now she really loves it.
Africa Today: Is there anything else you would want our readers to know about Josh Akognon?
Akognon: In life you're always going to have adversity. I try to find the silver lining in everything I do. The biggest thing about me is that there is no disappointment that is going to hold me down. Life is way too big to let any one thing keep me down. I advocate perseverance and staying with whatever you are doing or believe in. Eventually, it's likely to pay off.
Africa Today: Do you have any desire to coach some day?
JA: Yes, but not immediately - after I retire from playing. I have been away from my family for most of my professional career, pursuing my basketball dreams in foreign countries. Once my playing career is over, I hope to spend more time with them before starting a new career. The blessings God has given me have allowed me the flexibility to make these choices, so I will just have to see what I feel like as the time comes closer. The important thing is to be ready for life after basketball.
Africa Today: Would you be open to working with youths in Africa on developing their talents in basketball.
Akognon: Yes, I would absolutely work with kids in Nigeria to develop basketball talent. I will always be around to help out wherever possible.
Comment on this story