ANOTHER SW19 FORTNIGHT TO REMEMBER
09/12/23, Bunmi Akpata-Ohohe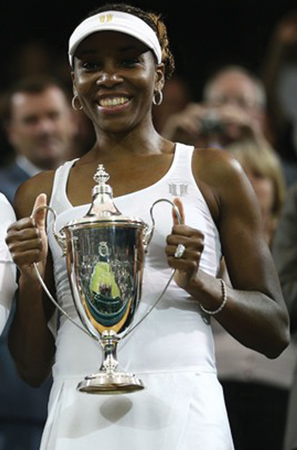 Venus Williams
Africa Today's Bunmi Akpata-Ohohe, revisits the magic of Wimbledon, the oldest tennis tournament in the world, while delving into the players performances and an array of records set and broken, at this year's 136th edition of The Championships.
There is always something unique about every Wimbledon. And this year's tournament is not an exception. There was a five-set thriller between Serbian Novak Djokovic, a perennial champion, now 36 years old, and Spain's new wonder boy Carlos Alcaraz, just 20. Then there was the standing ovation for the player everyone agreed was the Championship's heartbreak loser, again, this year, the 28-year-old Tunisian Ons Jabeur. History was also made when thousands queued overnight ahead of Day One appearance of the golden oldie Venus Williams, who was making her 24th appearance in the women's singles draw, after the 43-year-old American was given a wildcard entry for this year's tournament. The five-time Wimbledon women singles champion, now ranked No. 697 in the world, last reached the Wimbledon Final in 2017. Wimbledon 2023 had it all.
Venus Williams is a torchbearer for women in all sports. It is astonishing how, at her age, she remains a resonating voice in female sports, still kicking down doors and inspiring such young players as Coco Gauff, another American, who has been tipped by tennis doyens as a possible Wimbledon champion, to follow in the footsteps of Venus and her sister Serena Williams.
Carlos Alcaraz, Wimbledon Champion 2023
Africa Today caught up with Venus and had a pre-tournament interview with her at Wimbledon. She was asked if, as a seven-time champion at Wimbledon, she still felt different been allowed to play in the championship this year with a wildcard. She replied: "I haven't really thought about it (Laughing). I have been doing this for a very long time. It's my profession. Wildcard? It doesn't really bother me at all".
Africa Today: How about nerves? Do you feel nervous at all?
Venus Williams: Nerves? ...em no. For now, I think its excitement. Just excitement and excitement all round. Nerves are normal.
Africa Today: Are you truly excited playing at this level here and now?
Venus Williams: Yes it's so much fun. Really so much fun.
Africa Today: So much fun without Serena?
Venus Williams: Yes, that much fun. (Kidding).
Africa Today: But do you miss her at all on the tour?
Venus Williams: "Yes, of course, I do."
Africa Today: By the way how is Serena doing?
Venus Williams: She is doing good. She is fine."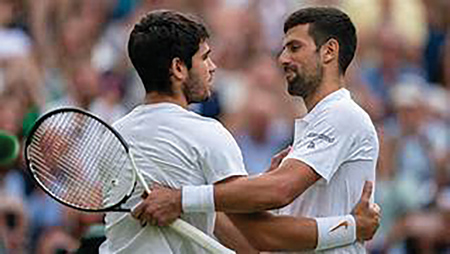 Novak Djokovic, the perennial champion embracing the new wonder kid after his loss to Alcaraz
Africa Today: We know you were out for six months with a bad hamstring injury in January. How was that for you to be out for that period?
Venus Williams: It was amazing (Laughing). No, this is not what I want. So, I worked hard. I know I just want to be here (Wimbledon), so I put my head down and put more work in my recovery. It's my life and I dealt with my life.
Although Williams departed Wimbledon in the first round, the 7-time champion's level has been impressive since her comeback. However, being dumped out in her first-round match at the age of 43, and mummy Serena having (supposedly) retired at the 2022 US Open, or as she put it then "evolving away from tennis," Wimbledon and indeed the tennis world is in search of their successors.
One of the talents on the minds of women's tennis lovers to succeed Venus and Serena is Tunisia's Ons Jabeur. She has, in the past few years, demonstrated that she is up to it. She is a gifted tennis player who comes to any match with a repertoire of slices, drop shots, slipping and sliding moves. She brings everything to her game once on court to counter her opponent and take what she thinks is another step towards a huddle she is yet to clear. It is so sad that after doing everything possible to progress to the 2023 Wimbledon final, she suffered another heart-breaking grand-slam defeat.
She is Africa's hope to be the first from the continent to win the Wimbledon women's title. No. 6 in the world, Jabeur is affectionately celebrated back in Africa and the Arab world as the "Minister of Happiness", a title she find's demanding to live up to. She has acknowledged that she is stressed or even scared at times on court.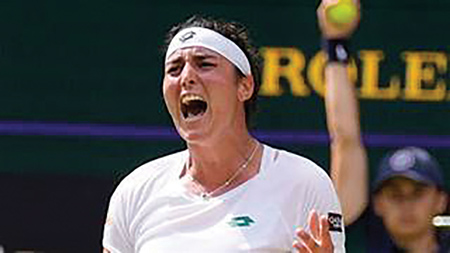 Waiting for her breakthrough; bridesmaid, never the bride: Tunisia's Ons Jabeur
How can Ons Jabeur overcome her losses in grand slam finals? The 28-year-old has been, for so long, the highest-ranked African-Arab woman in the history of the Women's Tennis Association (WTA). She was last year's US Open's runner-up - two months on from her Wimbledon disappointment. Now back-to-back Wimbledon final losses, Jabeur, has now joined a club of players, such as Kim Clijsters, Chrissie Evert and Simona Halem, who all lost their first three grand slam finals.
The question on everyone lips now is, is this a case of always being the bridesmaid and never the bride? No one has the answer, not even Jabeur herself. Her level in all three grand slam finals has been plainly average. However, fans and pundits alike would be glad to read that Ons Jabeur is determined to return to Wimbledon next year in her own right - no wild card business.
The one thing observers believe could make her feel better in moments like this is having the support of her peers. And she is got Kim Clijsters, the one-time No. One, who supports Jabeur. She shared tears with her in the Wimbledon locker room. It took Kim Clijsters five attempts before she finally won a major. She ended up claiming four during her tennis career.
How about the men's half of the championships? For the last 15 years men's tennis has been mostly about three surnames; Djokovic (Serbia), Federer (Switzerland), and Nadal (Spain), altogether feted as the big three. Their matches were a must-watch; impeccably put together show. They are always outstanding for their substance, grandiosity, and the titanic personalities they have come to represent in the world of tennis. What is more, their competitiveness always drove men's tennis to uncharted levels of quality and admiration from fans and journalists alike. And their clashes became the story that drove every grand slam towards the unavoidable climax.
There are new kids on the block now. The Spanish Carlos Alcaraz, 20, is at the forefront of this rising generation, taking to grass courts like a duck to water. Alcaraz's newfound love for grass propelled him to win his first Wimbledon title in 2023 in an all-time classic, which lasted nearly five hours; and the rest, as they say, is history. One of the big three at the receiving end of Alcaraz's feat, big-boy Novak Djokovic was graceful in defeat terming his conqueror as a combination of his best attributes and those of Roger Federer and Rafel Nadal. He was on point there!
Speaking to Africa Today at the press zone days before men's singles final, Bunmi Akpata-Ohohe announced herself as a reporter with Africa Today magazine. Carlos Alcaraz. He yelled: "Oh Africa is here too!" He laughed out very loudly. He was told: "Carlos you are the best on tour presently and 2023 Wimbledon is yours to win, do not throw it away."
Carlos Alcaraz: "Oh, thank you very much. I want to win it. As a kid I have always dreamed of winning Wimbledon above all grand slams, but grass is new to me, and I am very nervous. But I have a lot of confidence to make my dream come true this year. But meeting Djokovic in the final here in Wimbledon is also my dream."
Well, as it turned out, confidence was all Carlos Alcaraz needed. His childhood dreams have come true.
Africa Today, also had the opportunity to inform British player, Cameron Norrie (born in South Africa, but switched nationality in May 2013), that he has fans in Ghana, Nigeria, and South Africa, and they are always excited, rooting for him, and want to see him play well. An enthusiastic Norrie responded: "I would say that's cool. Especially not having any tournaments there; hopefully one day we can play tournaments in Africa. That would be great. I think, yeah, it's a unique sport where you get to have fans all over the world. Hopefully, we will play in an African country one day."
Wimbledon remains one tournament that matters much to so many players. It is the title they aspire to above all others. The estate looks different year-in-year-out. It feels different too, every year. It's just so pristine and stunning and dazzling, no doubt. And most significantly, grass court tennis is just very different to tennis on other surfaces - just the speed and class of it, is mind blowing. Champions come and go, but Wimbledon will never change from being the most coveted tournament.
Comment on this story