"I Believe in the Power of Faith"
01/06/21, Bunmi Akpata-Ohohe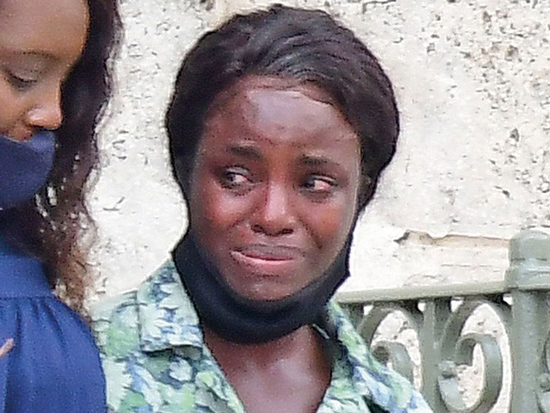 For Eniola Aluko, becoming a whistleblower shortened the longevity of her football career
Ace British-Nigerian footballer Eniola Aluko, discusses her
autobiography: They Don't Teach This, with E K'ABO's Bunmi Akpata-Ohohe. She talks about exposing racism at the heart of England's women's football and the opprobrium that dogged her final years as a member of that team
Nigerian-born Eniola Aluko, an outstanding female footballer, who was capped by England 102 times, scored some of the most unforgettable goals for her adopted country's team. She's the director of women's football at Aston Villa and has also become a pundit on primetime BBC TV Match of the Day Programme. Aluko is an ambassador for the United Nations Women - UK, who in the not-too-distant past was a controversial figure when she became a whistle-blower, exposing racism in the English game. 

In an interview with Africa Today in London, she made it categorically clear that she does not have any regret for blowing the whistle on rife racism in women's football and would never be sorry for giving evidence to the UK House of Commons digital, culture, media and sport committee in October 2017 on the racist culture that was allowed to flourish by the England Football Association (FA).
Eniola Aluko who is proud of her British and Nigerian identities, is one of only 11 female footballers to have been capped more than 101 times for England and who have scored some of the Lionesses (The England women's national football team) most striking goals. Aluko has 33 goals to her name and is England Women's joint 10th most capped international.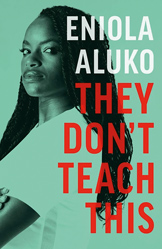 Eniola Aluko's book
Although she blew the whistle on the deep-rooted racism culture (institutional racism) in the England Women Football team, her courage to do so brought her international career to an unexpected end. She then took legal action against the England management team for racism, and the Football Association (FA), the governing body of association football in England, for turning a blind eye to brazen racism in women's football camp. And all hell broke loose. It was less about the beautiful game, but more of an earthquake for the governing FA. To break any silence is difficult - never mind one enforced over decades - particularly at the risk of huge commercial damage to a brand as valuable as the "England women's national football team."
Her revelations were not without personal attacks on and criticism of her. Eniola was harangued, marginalised and allegedly threatened with such viciousness by the establishment, including some of her teammates. But then again, like so many whistle-blowers before her, she has spent the last five years being disparaged by those so-called untouchable bigwigs she exposed as racist.
In her conversation with Africa Today, she says she has no guilt feelings and would be willingly do it all over again to bring to light the ills of racism out there. What is more, in this her newly released memoir - They Don't Teach This: Lessons from the game of life - Eniola does not hold back. And only a few from the England Football establishments - the so-called powers that be - came out with their reputation intact after her revelations. Aluko writes: "This is my story. It starts with a failure, because failure is the best teacher, and They Don't Teach This."
Reading through the memoir, one gets the chilling sense not only of how outlandish things were in the very recent past, but also of a story of racism that shouldn't be repeated in the future. 
That is the message from this 33-year-old's 482-page memoir, an account of her decade-long engagement with the "Beautiful Game". The memoir is moving and sometimes painful to read. It is the history of a bond that is also a love story of a British-Nigerian girl, born in Lagos, Nigeria, with traditional Yoruba name, Eniola, meaning "Person of Wealth"; a girl in a boys' world and an incredibly successful footballer, having joined England's Birmingham City's ladies football team at age 15. The hotshot striker went on to play for several other clubs, including Charlton Athletic, Saint Louis Athletica, Chelsea and for Italian giants Juventus until December 2019.  In 2007, she was named Young Player of the Year by the English FA, a splendid start to her sporting career, which led to her being christened the Wayne Rooney of women's football.  This is a youngster from a housing estate but with upper-middle-class parents. She comes from a well-known and respected family in Nigeria, with a grandfather who was a world-renowned economist and professor. Eniola is a qualified lawyer herself, having graduated from the prestigious Brunel University, London with a First-Class degree in 2008.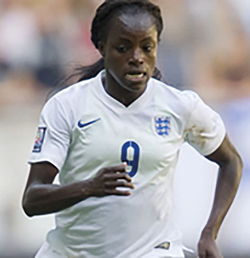 Aluko dazzled with her football skills
However, Aluko's discrimination case against former England boss Mark Sampson in 2017 was unique. It was a first. For instance, disparaging remarks were being said to Aluko's face, such as in November 2014, when Aluko told Sampson that her family was flying in from Nigeria to watch an England v Germany friendly match. Sampson replied: "Well, make sure they don't come over with Ebola." Some say it was banter and that Aluko should have taken it as such. Where is her sense of humour, some asked?  However, Sampson denied uttering these words for a long time after. Likewise, goalkeeping coach Kendall, a close associate of Sampson is said to have referred to Aluko as "a lazy fuck" and that "she is not fit enough", after a match in which Aluko had not only scored a goal but assisted with another. "If you are black, you are dubbed lazy and it dates back to slavery times. If you are black and you are called lazy it has racial connotations. Full stop."
However, these offensive remarks did not stop at Aluko. It happened to other black members of the England squad too, Aluko affirms.  Some black players were never selected for England for a second or third time; no matter how good they played, or the considerable milestones they achieved because of the colour of their skin, Aluko pointed out.
While Sampson did not drop Aluko, the agony continued. Aluko told Africa Today how the Welsh man time-after-time told her he could not depend on her even though she was in the shape of her life with six goals in six games for England. Sampson did not relent, calling her selfish and was not a team performer. She said she endured barrages of relentless pejorative remarks with racial undertones from Sampson because as a black player you know that the perils of "playing the race card". All she wanted to do then was play football, the game she loves with a passion. When asked what kept her going? She replied: "I believe in the power of faith; my faith and belief in God, and my desperation to reach 100 caps and become the first British-African woman to do so. And that became a reality in February 2016." Aluko told Africa Today, "Nobody can close the door God has opened for you. All is possible because of God's grace. I hope I inspire young girls all over the world; black and white." Aluko, also credits her mother for sticking to her guts. "My mother supported my brother and I from the first day we expressed an interest in football and giving assurance that all will be well." She advises: "We all have that dark day when we think it will never end. But then we step out of ourselves and put things in perspective."  l
Book Title: They Don't Teach This.
Author: Eniola Aluko with
Josie Le Blond
Publisher: Yellow Jersey Press, London
Price: UK £14:99
Comment on this story