SOKOTO STATE, NIGERIA
Promises Fulfilled
03/29/11, Biodun Omojola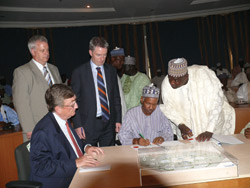 Special Adviser on Higher Education, Prof. G. V Ardo signs contract agreement for the construction of Sokoto State University while representative of the construction Company, Mcnamara, watches
Sokoto governor, Aliyu Wamakko, has spent the last three years changing the social and economic landscape of the Caliphate state and its people for the better. The result is there for everyone to see, reports Africa Today's Biodun Omojola.
Governor Aliyu Magatakarda Wamakko of Sokoto State has set a tall agenda for himself. He wants to achieve, in his first term, what his former boss, Attahiru Bafarawa, achieved in his two terms as governor. Tall as the agenda may be, Aliyu Wamakko is on course to fulfilling his wish. The Wamakko administration, described as one with a listening ear, has promised to improve the quality of life of the people of Sokoto state. Social services, education, agriculture, health, women affairs and other sectors where government's meaningful impact has not been felt in years past are where Wamakko is concentrating his efforts. Results are discernable in the sectors that have felt the Wamakko touch. Today many of Sokoto's ordinary citizens are, for the first time, feeling government's impact in their lives.
Governor Wamakko has truly demystified governance. His open government is very close to the people. As a demonstration of his love for the masses, Governor Wamakko, upon assumption of office, embarked on an assessment tour of all 23 local government areas in the state. One of the major reasons for the tour, aside for saying a big thank you to his multitude of supporters, was to hear from the rural dwellers themselves what their immediate and most pressing needs were. This tour took him to more than 300 villages in Sokoto state. As a result of this tour, Governor Wamakko was able to have a firsthand knowledge of the yearnings of his citizens. Where health was the problem, polices to tackle it was implemented. Where it was youth unemployment, policies were formulated and executed regarding it. Across all sectors, Wamakko formulated and executed policies, the result which is a dynamic resurgence in the polity.
EDUCATION
Governor Wamakko has acknowledged education as the bedrock of any society's progress; therefore he attaches great importance to this sector. Within Wamakko's three years in power, the sector has witnessed tremendous change and improvement. This is because a state of emergency was declared by Wamakko in this all-important sector. In other to revitalize education in the state, a considerable percentage of the state's budget goes to education. One major policy of the Wamakko administration is to make education accessible to all children living in the state. To achieve this, the state offers free education to children in primary and secondary schools irrespective of state of origin. To further invigorate the sector, selected schools were rehabilitated and expanded; science and technical equipment were distribution to all secondary schools; textbooks for all subjects were distributed in addition to computers and accessories to selected schools. There was also a recruitment drive for teachers with over 2000 employed; provision of fully equipped classrooms and hostels and provision of vehicles for monitoring and inspection complemented the effort. Aside providing infrastructure, the Wamakko administration underwrites the payment of examination fees for all secondary students in the state.
Under Wamakko tertiary education is receiving adequate attention. The administration has increased scholarship allowances to indigenous students in various tertiary institutions and sponsors students to attend universities abroad and specialised institutions including the College of Aviation Technology, Nigeria Maritime Academy and the African Maritime Academy. Sokoto State has also now joined the league of Nigerian states with a university. Although not yet fully operational, the Sokoto State University will complement other state tertiary institutions including a college of education and a polytechnic. All contractual agreements regarding the state university have been signed by Governor Wamakko. There is a department of higher education charged with securing admission for Sokoto indigenes in various tertiary institutions in the country. This department, supervised by a consultant, conducts extra-mural programmes in seven centers for students to rectify their ordinary level deficiencies preparatory to entering higher institutions.
Special education areas have also received the attention of Governor Wamakko. In the area of women education, the administration has established three additional women centres, one in each of the state's three senatorial districts. The Wamakko administration has also established additional nomadic schools to take care of itinerant children of school age. A first in the history of northern Nigeria was the establishment, by the Wamakko administration, of special schools to take care of the Almejiri (child-beggars), a problem in northern Nigeria. These schools offer Islamic and western education. In addition, children in these schools are fed, housed and clothed. Also provided are model libraries in some selected secondary schools and fully equipped education resources centres with necessary facilities to cater for primary and post-primary schools. Feeding allowances have also been increased by 100 percent for students thus ending the burden on parents. The implication all this is that attendance at schools has shot up 30 percent.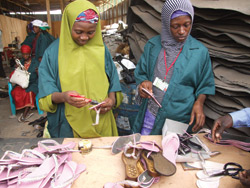 Women at the youth development center
HEALTH
The Wamakko administration, on inception, made effective healthcare one of its main priorities. Due to the neglect of this sector, Wamakko introduced two health programmes, FREMCARE or free medical care and RUMCARE (rural mobile medical care). These programmes are the cornerstones of Wamakko's health policy. Under FREMCARE, free medicare is given to pregnant women and children under five years, considered the most vulnerable groups in the population. Emphasis on children is centered on the prevention, treatment and control of malaria, diarrhea, dysentery, measles, typhoid fever and tuberculosis, etc., while for pregnant women it is centered on clinical antenatal, postnatal, obstetric, gynae and emergency care services, pregnancy and delivery complications including hemorrhage, sepsis, pregnancy associated high blood pressure, anemia, and malaria.
RUMCARE is designed for communities far from hospitals or are hard to reach. RUMCARE's introduction has brought modern medicare to many the rural areas of Sokoto. Under RUMCARE health teams visit one community per week in each of the three senatorial zones, taking free medical care services to the door steps of communities. To assist this initiative, mobile clinics and ambulances were bought to assist in providing emergency healthcare services, increasing response time to disease outbreaks and enhancing surveillance and immunisation coverage, among others, in the rural areas. Other health programmes introduced by Wamakko include MDG/NHIS maternal and child healthcare insurance project, MDG intervention project on malaria control and obstetric care, community health insurance scheme and state taskforce on polio eradication and routine immunization. Others are action committees on HIV/AIDS control; roll back malaria programme, eye care programme and control of leprosy and tuberculosis. The programmes have succeeded in promoting effective healthcare delivery in the state.
Sustaining these programmes is important. Adequate provision has been made by the state government for the regular supply of essential equipment, including supply of drugs and medical consumables; provision of fuel, logistics and team motivation welfare package and continuous data generation and research to meet the health care needs and aspirations of the people. The success of these programmes has been greatly helped by the reconstruction of health facilities and equipping of many of the state's hospitals and primary health centres, six of which has been upgraded to General Hospitals. This has been unprecedented in the annals of Sokoto state. The Murtala Mohammed General Hospital, abandoned for decades, will soon be completed as contract for the hospital complex has been awarded.
YOUTH/SPORT DEVELOPMENT
Employing and developing the youth are two issues close and dear to the heart of Governor Wamakko. Upon assuming office, he made a pledge to tackle the issue of youth unemployment in the state. By way of engaging the youths and especially making them self-reliant, skill acquisition centres were established by the Wamakko administration to train about 25,000 youths annually in various skills and trades. In order to achieve this impressive figure, each of the state's 23 LGAs would have 1000 of its unemployed youth trained in various trades and skills including sewing, knitting, vulcanizing, auto mechanics, panel beating, poultry farming etc. at these skill acquisition centers. In addition to the training received, trainees are paid allowances and on completion assisted with start-up funds to roll out their own businesses. So far the skill acquisition centers have proved to be a major success. Even young women have taken to the programme wholeheartedly and make up a considerable number of students in these centers. It is comforting to know that the scheme is a success as more than 70 percent of the graduates of these centres have succeeded.
The Wamakko government, in recognition of sport as a huge industry that can gainfully employ local youths, embarked on the renovation of Giginya stadium. This is nearing completion and will provide necessary sporting facilities. Sport development has been non-existent for over eight years in the state. Now, Sport is being positioned by governor Wamakko to take the youths off the streets and offer them another opportunity for self-development. As a result of Wamakko's interest in sport, Sokoto State contingent to the KADA sport festival in 2009 was the largest in the history of sport in the state in recent times.
WOMEN AFFAIRS
Under the Wamakko administration, the women of Sokoto have never had it as good as the governor has given top priority to their developmental needs. It has provided women development centres in all 23 local government areas of the state, provided the centers with working materials, created computer, fitness and day care centres and provided assistance worth N15 million to distressed women and women petty traders across the state. The administration expanded the Maryam Abacha VVF and Children Hospital and also renovated and expanded the Wamakko drop-in centre. The Wamakko administration intends to create women and children affairs department at local government level and provide soft loans to women cooperative groups across the state.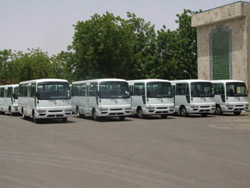 Buses bought by sokoto state government for distribution tertiary institutions in the state.
ROAD DEVELOPMENT
The Wamakko administration places premium on the provision of a good road network. As a result, various road construction works are ongoing with some already completed across the state. Altogether hundreds of kilometers of roads were constructed or rehabilitated. These include Wurno-Huchi-Tambagarka-Nasarawa road, Gidan Sale-Tidibale-Mailalle road (52 km), Bodinga-Kilgori-Bakale road (20 km), Fakka-Gudurega-Bingaje-Yabo II road (16 km), asphalting of Arkilla Gumbi-Wamakko-Kalambaina road (24 km) and Illela Gada road (40 km). Others are Rundi-Katami-Silame road (37 km), reconstruction of 1.8 km Ahmadu Bello Way with drainages on both sides, rehabilitation of Gusau road from Mai-ruwa roundabout to the town gate (3.9 km), construction of Yar-Abba-Hamidawa-Fanari road (13 km) and the dualisation of Garba Mohammed road (1.3 km) among others.
Road development was not only felt in the Sokoto metropolis but also across the state. Feeder roaders that provide accessibility to and from rural destinations were also constructed. These feeder roads have helped to further open up the state and develop the areas economically as it has helped ease problems associated with bringing agricultural products from the hinterland to the urban areas. These roads have also helped social interaction between urban and rural areas, and among communities. Budgetary allocation for the development of over 500 kilometers of feeder roads was made by the Wamakko administration in 2009. Altogether, from 2007 to date the Wamakko administration has constructed over 820km roads in Sokoto state.
HOUSING
Affordable and quality housing remains a big challenge for many Nigerian states. However in Sokoto state this big challenge is being adequately tackled by the Wamakko administration. 2000 housing units were built to solve this most pressing problem. Beneficiaries of this public housing programme include civil servants and victims of the recent floods that ravaged the state. Under the Wamakko housing programme, existing government housing quarters were expanded and renovated.
RURAL ELECTRIFICATION
To further develop the rural communities, various rural electrification projects were embarked upon by the Wamakko administration. These projects were embarked upon specifically to encourage the establishment of cottage industries and other commercial activities in the rural areas as a means of developing these communities. These electrification projects are developed in tandem with the state's poverty eradication programme. The Wamakko administration has completed many inherited rural electrification projects, completed its own projects and connected close to 300 towns/villages to the country's national grid. Part of the state's electrification programme also saw the construction of an Independent Power Plant capable of providing an additional 30 megawatts of electricity for the state.
AGRICULTURE
Northern Nigeria, a reservoir of cash and food crops, is known as Nigeria's food basket. Sokoto state is deeply involved in agriculture. Over 80 percent of its population is engaged in farming, mainly at the subsistence level. The Wamakko administration wants to boost this sector through increased funding, distribution of disease-resistant seedlings, pesticides and fertilizer, among others. In 2009 alone, the Wamakko administration procured 140,000 metric tonnes of fertilizer for the farming season. These were distributed to farmers at subsidized rates. Also to assist farmers, about 30, 000 irrigation pumps were procured and sold to them at subsidized rates. In addition, as a means of boosting mechanised farming and also increasing turn-over on the farms, government procured 400 tractors complete with implements to be leased to farmers. Various irrigation schemes were embarked upon to assist farmers especially during the dry season. In addition, government disbursed N40 million in loans to rice farmers and others. Also 20 rice threshing machines were given to farmers. Under the state's strategic grains reserve programme, Sokoto procured and stored over 6,000 metric tonnes of assorted grains. Government, in addition, bought aerial spray materials, hundreds of litres of pesticides and agro chemical materials for control of Quella birds and various crop pests in the state.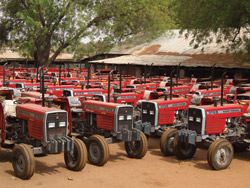 146 units of tractors purchased by sokoto state government
In the area of animal husbandry and fisheries, government committed N100 million and further injected N414 million in the 2009 fiscal year to increase beef production and hides and skin. It also embarked on vaccination programmes against diseases. It developed LIBC in Dogon Daji and Kebbe cattle ranch by increasing their stock and providing livestock feeds, drugs and equipment. It further established eight veterinary clinics and also procured public health equipment for control and eradication of zoometric diseases throughout the State. Government also provided modernised fish farms and established modern hatchery in the state. It also developed grazing reserves for animal pasture, provided water holes and procured livestock feeds. In addition the Wamakko administration constructed four livestock centres in the State. There is also a special livestock programme for livestock rearing and dairy products. This is in conjunction with the government of Argentina. Most notable was the establishment of a College of Agriculture and Animal Science at Wurno to train specialists in various agricultural areas. As a result of government's increased commitment on agriculture there has been a remarkable surge in farming activities in the state. Prospects for this critical sector of the state's economy is greater because of governor Wamakko's policies.
POVERTY ALLEVIATION/ SOCIAL WELFARE
For Wamakko, poverty should not have a home in Sokoto State. He therefore, in 2007, launched the state poverty reduction agency, (SPORA) to tackle this problem. The establishment of skill acquisition centers to train thousands of youths annually in various skills and trades is one of Wamakko's initiatives aimed at tackling poverty among the populace. One of the objectives of these skill acquisition centers is to make the youths to be self-reliant. In addition to these centers, the Wamakko government made available 150 buses, 70 taxis and 150 tricycles (rickshaws) to interested members of the public at easily affordable rates in a two-prong approach to boost intra- and inter-city transportation and alleviate poverty. The administration also procured candle and paint-making machines to boost cottage industries. These machines are also to be used to train unemployed youths in this trade. Three sets of borehole drilling equipment, one each for the state's three senatorial districts, were procured to be used by indigenes trained in the field. The drilling equipment will ensure citizens have access to water for agriculture, human and animal consumption. These are various steps made by the Wamakko government to alleviate poverty.
WATER RESOURCES
The Wamakko administration inherited a serious water supply problem. Upon assumption of office, existing water pipes were replaced while tank reservoirs were refurbished. To tackle the water supply problem, a committee was set up and tasked with providing water supply in the capital within the shortest time. Since the inauguration of the committee Sokoto metropolis has witnessed dramatic improvement in water supply. In addition the Wamakko administration converted 25 motorized water schemes to solar; upgraded 23 village water schemes to semi-urban water schemes; upgraded 25 semi-urban water supply schemes to urban water supply schemes; constructed eight semi-urban water schemes and constructed a second water works at Asare capable of providing 45 million litres per day. Other projects under Wamakko's water resources scheme include the drilling of 46 additional boreholes in guinea-worm infested communities; establishment of hydromel stations and rehabilitation of 202 semi-urban water schemes. Also rural water supply has been intensified by the Wamakko administration with the provision of overhead tanks and boreholes in various communities across the state. Water schemes have been rehabilitated in Tungur Mallam Rashidu, Binga, Yaka, Karfen China and Yar'Abba. Also rehabilitated are hand pumps. In addition, solar powered water schemes have been introduced to complement various electric-operated water schemes.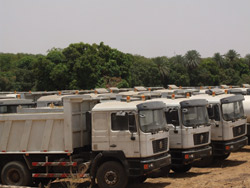 Trucks for the Sokoto Environmental Protection Agency
ENVIRONMENT
Having a healthy environment means less expenditure on health care. This probably informed the decision of Governor Wamakko to create a new ministry dedicated solely to environmental issues. This ministry implements and supervises Wamakko's environmental polices throughout the state with a professional view. Through the ministry, government has provided shelterbelt at Sokoto-Wamakko road and Dandin Mahe-Jaredi Junction; constructed 2 km drainage at Runjin Sambo to control gully erosion and embarked on repairs of embankment and maintenance of Wurno Irrigation Scheme. It established shelterbelts in seven local government areas and established 30 hectares eucalyptus plantations in all three senatorial districts. The ministry also carried out afforestation activities at various LGAs, establishing gum arabic plantation; controlling desertification and land degradation and providing alternative sources of energy and effective cooking stoves to safeguard existing flora.
Other achievements of the ministry include the introduction of the monthly sanitation exercise, modernization of refuse management in the state, cleaning of Sokoto metropolis, regular enforcement of relevant laws as it applies to the environment and environmental education and awareness programmes. Sokoto state equally applies Environmental Impact Assessment (EIA) on all its projects to see if they conform to best global environmental practice. There is also an agency, the Sokoto Environmental Protection Agency, charged with overseeing environmental issues in the state.
COMMERCE AND INDUSTRIES
Governor Wamakko, in line with his poverty reduction policy, has the industrialization and development of commercial activities as one of his major objectives. Development of this sector will not only boost commercial activities in Sokoto State but also generate employment for the youths. The Sokoto Chamber of Commerce and Industries in association with the state government disbursed interest-free loans of N2 billion to 7,000 businessmen. It also procured 20 units of complete small scale rice milling machines with polishers and generators, 20,000 irrigation pumps, 20,000 agricultural sprayers, 50 mobile mechanic workshops, 1,000 machines for shoemaking and leather works and 1,000 of embroidery machines to assist small scale entrepreneurs in the State. Government also increased its shares in the Sokoto Furniture Factory Limited to 57.805 percent.
The Wamakko administration continues to woo foreign investors to the State. Investors from the Middle East, China, South Africa and elsewhere have been invited to come and utilize the state's abundant solid mineral resources. Huge sums of money have been committed to the establishment of various industries including agro-allied, leather works and lime processing industries. To boost trade, Wamakko has also established an international border and two regional markets, completed the proposed industrial layouts in the state. Government also constructed a new meat and fish markets to serve the rebuilt Sokoto Central Market.