DELTA: LAND OF INFINITE OPPORTUNITIES
01/13/17, Isaac Umunna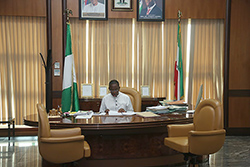 Above: Governor Okowa working on some files on his desk
 A mini Nigeria, Delta State boasts enormous investment opportunities in oil and gas, solid minerals, agriculture and other sectors. The State Government under the watch of Senator (Dr.) Ifeanyi Okowa provides mouth-watering incentives for prospective investors while also laying the foundation for investment to thrive.
Delta State proudly advertises itself as Nigeria's Big Heart and Preferred Investment Destination. Both claims are correct.
Created on August 27, 1991, Delta is an oil producing and agricultural state situated in the oil-rich Niger Delta region of Nigeria known as the South-South geo-political zone. It has an estimated population of 5.1 million, largely literate and with a drive for education and skills. Delta State serves as access route and gateway to commercial and economic hubs such as Lagos, Port Harcourt, Abuja and Onitsha. It has a large urban population and a comparatively high number of urban areas. The state is easily accessible by sea, air and land - thanks to its four sea ports, an international airport, and good road networks.
Asaba, the state capital, is located by the famous mighty River Niger, the source of which was discovered by the famed explorer Mungo Park. The Mungo Park House, Asaba, is one of the major tourist sites in the state also known as Nigeria's sports power house; having produced global sports icons such as Austin Jay Jay Okocha and the late Stephen Keshi.
Explaining what makes Delta State the "Big Heart" of Africa's most populous country, the State Commissioner for Information, Patrick Ukah, said: "Delta State is fondly called a mini Nigeria due to its multi ethnic nationalities. The people of Delta State are known for their doggedness, steadfastness and a keen ability to express themselves, traits that are seen in our athletes, entertainers and entrepreneurs - it is little wonder that we are called the 'Big Heart'."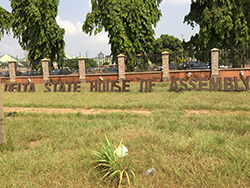 Outside the Delta State House of Assembly
The State Governor, Dr. Ifeanyi Arthur Okowa, was a former Senator who mounted the saddle on May 29, 2015 as the fourth governor of Delta State. He is focused on making the state an investor's haven. Perhaps no one understands Delta State more than Okowa. A medical doctor by training, Okowa has been active in public administration for the past 25 years, cutting his teeth as Secretary to Ika Local Government in 1991. He then became Chairman of Ika North-East Local Government Council, thereafter occupying other sensitive positions such as commissioner, government secretary and senator before he successfully ran for governor during the keenly contested April 11, 2015 polls.
Based on his deep knowledge of the challenges facing Delta State, Okowa, 57, fashioned out the S.M.A.R.T. Agenda, which he aggressively marketed during the campaigns and promised to faithfully implement if the people gave him the mandate to become their governor. The S.M.A.R.T. Agenda focusses on five pillars as follows: (1) Job and Wealth creation; (2) Meaningful peace building platforms aimed at political and social harmony; (3) Agricultural reforms and accelerated industrialization; (4) Relevant health and education policies; and (5) Transformed environment through urban renewal.
Shortly after Okowa assumed office, the policy objectives and implementation frameworks for these development agenda were articulated in the Delta State Medium-Term Development Plan (DSMTDP) 2016-2019. One key element of the economic growth, job and wealth creation and development strategy is the mobilisation of private sector investment through various public-private partnerships. Hence, efforts have been made and are continuing to improve the enabling environment for business and investment in the state.
A devoted Christian and family man, Okowa took office promising to enthrone a legacy of wealth and prosperity for all Delta people and communities. "We are committed to the building and consolidation of a state in which there shall be more employment opportunities, a flourishing agriculture and agribusiness sector, effective health and educational systems, renewed urban infrastructure, and enhanced security and peace to bolster growth and development," he says at every opportunity.
His passion for job creation, youth development and partnership with the private sector shines as brightly as the morning sun. It is a gospel which he preaches at every opportunity. Thus he could proudly say while delivering the Keynote Address at the Africa Industrialization Day at the United Nations Office in New York, November 24, 2015: "In Delta State where I am Governor, we have developed a road map to engage our youths and women in productive enterprises and ensure inclusive growth. Our strategic approach is a comprehensive programme of youth training, development and empowerment in agricultural enterprises and vocational skills, micro-credit to support small and medium scale enterprises, and the creation of a conducive business and investment environment. Also we are undertaking concerted measures for the integration of agricultural and agro-industrial development based on our comparative-advantage commodities, particularly cassava, oil palm and aquaculture."
The airport in the state capital city of Asaba
Okowa on that occasion called for international support for Delta State's Job and Wealth Creation Scheme. "In particular," he said, "we would leverage financing and technical assistance from international and global agencies, including the United Nations, to enhance performance and sustainability of our Job and Wealth Creation Scheme."
He emphasised that Delta State is conducive for business to thrive because, "we believe that when they (investors) come, there will be job opportunities for our youths and, of course, there is high return on investments in our state, so, all that we see is a win-win situation for all stakeholders."
Speaking more recently, Okowa said in late August 2016 while addressing the Delta Economic/Investment Summit in Asaba organised as part of activities to mark the state's silver jubilee celebration: "Our partnership with the private sector is of utmost priority with us and we are pursuing it with relentless vigour, adopting robust and flexible private public partnership models that guarantees a win-win for all."
Investment opportunities in Delta State
Delta State is endowed with human and natural resources. It is the third largest producer of oil and gas in Nigeria, and hosts some of the country's major oil and gas based industries and facilities such as refinery, petrochemical plant complex, a gas plant, steel complex, two gas fired electricity stations and oil export terminals. There is also a significant presence of infrastructure, such as good network of roads and bridges across many waterways. The state can also supply raw materials to support the establishment of industries.
Investment opportunities in the state cut across various sectors; from oil and gas to solid minerals, agriculture and agribusiness, manufacturing, tourism, housing, energy, commerce and tourism, among others.
Oil & Gas
Due to the strategic location of Delta State in the oil-rich Niger Delta region, it provides the operational base for multinational oil companies. The oil and gas set-up is a very viable sector open to both local and international investors. The Delta State government is committed to diversifying and strengthening the state's economic base without neglecting oil and gas. Immense investment opportunities abound in both upstream and downstream sub-sectors, including surveying; geodetic control and establishment; mapping tropical and planimetric; sea bottom surveying/investigation; civil works; seismic data acquisition and interpretation; geological activities; and drilling operations.
Power and Energy
A wide area of investment potentials is open to core investors in the critical sector of power generation, transmission and distribution. For a state that is in the forefront of the generation of thermal electricity in Nigeria, added premium has been given to the establishment of independent power generation through Public-Private Participation (PPP). Investment opportunities exist in the areas of solar, gas, bio, wind and hydro energy.
Solid minerals
Delta State has abundant investment opportunities in the solid minerals sector. The state has rich deposits of minerals for commercial exploitation and processing. A number of studies have been undertaken by the Raw Materials Research and Development Council (RMRDC), an agency of the Federal Government of Nigeria, on their uses and application.
One notable example is bentonite. Nigeria has proven reserves of more than 10 billion MT of bentonite, much of it in Delta State. There are currently no bentonite production plants in Africa and 100% of the mud used in drilling oil wells in Nigeria and all over Africa is imported - mostly from the United States of America. Okowa invites investors to Delta State "to participate in the establishment of this landmark project as pioneers." The plant, according to him, "will enjoy pioneer status, which will translate into significant benefits to the investors, government and people of Delta State, and Nigeria in general. It is envisaged that the plant will in less than five years be a dominant supplier of bentonite to oil and gas companies and other companies operating in Nigeria and Africa at large."
Other solid minerals found in commercial quantities in the state and which the state government is inviting investors to come and explore include clay, silica, lignite/brown coal, kaolin and sandstone, among others.
Agriculture and Agribusiness
Delta State has huge agricultural potential that is till undeveloped. Currently cultivated arable land is estimated at about 200,000 hectares with up to 500,000 ha yet to be brought into cultivation. The main agricultural commodities include arable crops (cassava, yam and maize), tree crops and perennials (oil palm, rubber, raffia palm and plantain), fruits and vegetables (pineapple, citrus and tomato) and rice in suitable ecologies.
The tremendous potentials for aquaculture lie in the rich variety of aquatic ecosystems and water resources, including several ponds, lakes and streams, inland rivers and estuaries, over 80,000 hectares of freshwater resources such as found  in the lower Niger basin and brackish water of the mangrove swamps (stretching over 347,000 hectares). On the other hand, the extensive coastline of about 163km and related coastline water systems provide further investment opportunities - just as does livestock production, particularly poultry and piggery.
Infrastructure development
The policy thrusts and institutional reforms under S.M.A.R.T. Agenda have created great opportunities for private sector investment in infrastructure provision in the state. Investment opportunities are available in urban and new towns development, urban waste management, mass transit systems and water production and supply.
Health and education
There are opportunities for investment in the health and education sectors. The state government, under the S.M.R.T Agenda, is focusing on technical and vocational education and delivery of high quality education at all levels. Private investors can enter into partnership with the state government for the development of tertiary education infrastructure such as students' hostels. Already, public-private partnership options have been worked out by the state government.
With regard to health, the state government has established the Delta State Contributory Health Commission (DSCHC) to promote universal health care (UHC) in the state. Opportunities exist for private investors to participate in the implementation of the health insurance scheme as well as in operating specific health care facilities on a public-private partnership (PPP) basis.
The state parliament
Commerce and industry
By virtue of its array of raw materials for industries, skilled labour force and improved business environment, Delta State has huge investment opportunities in commerce and industry. The areas of investment opportunities include, but are not limited to ethanol refining, cassava production, starch mill, garri processing mill bread/flour mill, palm oil mill, soap/cosmetics factory, rubber mill, plastic production and textiles (making of traditional dresses).
Wide-ranging incentives for investors
The state government has carried out regulatory, administrative and institutional reforms aimed at improving the ease of doing business in the state. The reforms cover speedy property registration, consolidation of taxes and levies, investment promotion through best-practice public-private partnership templates, facilitation of land access and improved delivery of public services to businesses. A basket of investment incentives, including tax holidays, expatriate quota, duty drawback scheme, land acquisition concessions and community relations interventions have been packaged to stimulate private sector investment in the state.
Yet another incentive is in the area of security. Though an integral part of Niger Delta geo-political zone known for agitations that sometimes lead to militancy, Delta State is relatively peaceful. Cognizant of the need to grow the state's economy, and ensure security of life and property, successive governments have made peace and security the fulcrum of the state's development frameworks. Some of the policies and programmes currently being implemented and aimed at fostering peace and security by the Okowa administration include: the establishment of Waterways Security Committee; deployment of officers of the Nigerian armed forces for special security duties; the general amnesty programme; establishment of security council: empowerment/wealth creation; passage of anti-kidnapping laws and infrastructure development, among others.
Okowa told Africa Today: "The agitation is there because the people want some reasonable level of development. And over time when oil companies come in and invest in their land, it is expected that as people begin to see a lot of growth and investments within the facilities in terms of infrastructure, drinking water and everything, and the communities continue to be seen as living in very unhealthy environment, with time the young ones who are going to school, the young ones who are getting exposed will begin to get agitated in their minds. That is essentially what has happened over time. But I believe too that in many instances in the past few years there have been a better relationship being created by some of the oil companies, between them and some of the communities, like the General Memorandum of Understanding (GMoU) between Chevron and some of these communities have helped to some extent to cushion some of these effects where appropriate committees and councils are created, like, for instance, the Itsekiri Regional Development Council and the Ijaw Regional Development Council, where the oil companies relate with them, they create the essential committees. In fact, some monies are released to them to be able to develop some infrastructure of their own. 
"But there are reasons for agitation, but these are issues we are trying to address with the committees and get the people to understand that we know and understand what is going on but we don't have to agitate by violence. Recently I have been preaching solving these issues by dialogue and not by violence so that we can get better result. So what we actually are beginning to see is trying to get more and more young ones who have influence on their peers to begin to talk to them and I think we are having some success because in the last two months its getting much better. We have also got the elders involved. The elders have had to meet with the president and even after meeting with the president, the elders within the Niger Delta met here in Asaba to review their meeting with the president and to also fashion out other ways to continue that dialogue."
 Asked how much of a threat are these agitations to investment in Delta State,
Governor Okowa replied: "I don't think the agitation is so much of a threat to investment because the anger is not one that was directed to the investors."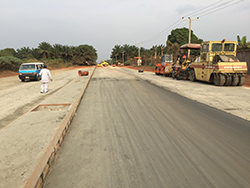 The old Lagos - Agbor road under construction
He is convinced that "given our enormous investment opportunities and investment incentives, there is no gainsaying the fact that Delta State is the preferred investment destination."
Investors from Nigeria and abroad who have lately chosen to prospect in Delta State agree with Okowa. One of them is Chukwuma Nwaobi, who recently built an ultra-modern hotel in Asaba as part of his investment in the hospitality industry in the state. He publicly told Okowa during the opening of the hotel: "Your Excellency, we are happy that you have made Delta State investment friendly and the signs are all over the place. We took time to choose Delta State as our investment spot above other states due to the monumental potentials we discovered in this state; your ability in making Delta State one of the safest states in Nigeria is one of our topmost motivation."
Welion Yang, director, Huawei Technologies Company Limited, publicly expressed similar sentiments while speaking during the signing of a Memorandum of Understanding (MoU) with the Delta State Government for the development of smart cities in the state. A visibly elated Yang was full of praises for Governor Okowa, whom he thanked "for providing the enabling environment for investment to thrive in Delta State."
Okowa, who signed on behalf of the state government, used the opportunity to invite other prospective investors to come down to Delta and explore the abundant investment opportunities.  
That invitation, says Jim Ovia, a foremost Nigerian entrepreneur and chairman of Zenith Bank Plc, is one which every serious investor should take seriously. Reason: "Delta State is a land of infinite possibilities."
Comment on this story