The triumphant exit of Eze Igbo Gburugburu
03/21/12, Anthony Akaeze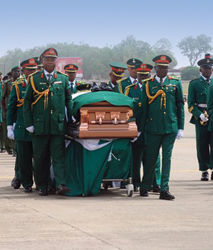 The remains of Nigeria's secessionist leader Odumegwu Ojukwu recieve last respect after arrival at the Presidential Wing of Inamdi Azikiwe International Airport in Abuja. GETTY
Odumegwu Ojukwu, the beloved Igbo leader who led a rebellion against Nigeria, in one of the great contradictions, is buried as a "national hero".
Among the diverse ethnic groups in Africa, there are perhaps few that boast a richer wealth of proverbs than the Igbo people of Nigeria. The Igbo are known for their love of words and this never fails to strike even the curious onlooker. But, for all their "superfluous" words, as Chinua Achebe himself once noted of them, there is a saying that the people love to mouth in a manner that tends to suggest that they are different, or perhaps not as condescending as other Nigerian ethnic groups. Igbo Amaro Eze, goes the saying. In simple terms, it means that the destiny or fate of the people does not lie in any king, or that the people do not totally trust or place their trust in any leader for reasons not unconnected with self belief or even aloofness.
It's a somewhat scathing remark that many Igbo sons and daughters, however accomplished, acknowledge. But do not be fooled by it. There are always exceptions to the rule and Chukwuemeka Odumegwu Ojukwu illustrates this. Ojukwu, the Eze Igbo Gburugburu of Ibo land, who died on November 26 last year in London and was buried March 2, 2012 with pomp and circumstance, was a beloved leader of his people. He was the one man-perhaps, the only Igbo man-"without blemish," according to one admirer. It's every inch an exaggeration, but Ojukwu was much loved by his people. This love has its roots in the events of 1967--70. As governor of the Eastern Region in 1967, Ojukwu announced the secession of the region, of which the Igbo make up the majority, from the Nigerian federation. The new nation was called Biafra. It was his reaction to the violence that had broken out in many northern Nigerian states, in which thousands of died.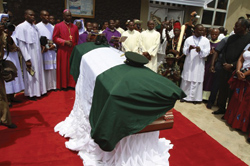 Clergymen surround the casket of Biafran ex-warlord Chukwuemeka Odumegwu Ojukwu at St. Micheal Catholic church during his final funeral ceremony in his native village of Nnewi.
The violence was the direct result of the January 15, 1966 coup-de-tat which saw major northern leaders, military and civilian, losing their lives. The coup was hatched and executed by a group of young military officers, led by Majors Chukwuma Nzeogwu and Emmanuel Ifeajuna, two Igbo officers. But the coup flopped as the planners failed to achieve their intended goal. Although powerful politicians such as Abubakar Tafawa Balewa, the prime minister of Nigeria, Ahmadu Bello, the premier of Northern Region, Ladoke Akintola, premier of Western Region, Okotie Eboh, finance minister and Brigadier Zakariya Maimalari were killed in the putsch, the coupists did not succeed in taking over power. While Nzeogwu was on top of the situation in Kaduna, having led the attack that terminated the life of Bello, the same could not be said of Ifeajuna in Lagos. Although Balewa, Eboh, Akintola and Maimalari were hunted and killed by Ifeajuna and his co-conspirators, Ifeajuna suddenly developed cold feet, and, rather than continue with the action, fled Lagos, thus leaving the stage for Aguiyi Ironsi, an Igbo officer, and the highest ranking Nigerian military officer at the time, who was himself allegedly a prime target of the attack, to take charge.
The skewed nature of that historic incident, which by fate or design, saw no top Igbo politician or military officer losing his life, angered many Northerners. Secretly, they began to plot their revenge. This later led to the killing of Ironsi, who, following the January 15 coup, and the truncation of the civilian administration, had assumed the position of head of state. Ironsi was killed on July 29, 1966, while on a visit to Ibadan, where he was a guest to Lieutenant Colonel Adekunle Fajuyi, who was the military governor of the Western Region. Fajuyi lost his life too in the revenge counter-coup that was to bring a young Lieutenant Colonel Yakubu Gowon to power.
Had the story remained that way, it might have ended as a mere military matter at most, a kind of "dog eat dog" situation. But northern anger was yet to be assuaged. Various reports of southerners, particularly the Igbo, being stalked and killed across the northern region, made the rounds. Words like "mutiny" and "pogrom," had been used to describe what happened in many northern states in those days. Ojukwu, who was the commander of the Fifth Battalion in Kano, when the January 15 coup occurred, was later appointed governor of the Eastern region by Ironsi, shortly after assumption of office as head of state. It was in that capacity that he declared the secession of Eastern region from Nigeria. This was after series of attempts by the federal government to pacify and assure the Igbo people of their safety failed to yield fruits.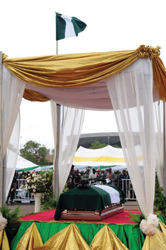 The casket of Nigeria's secessionist leader Odumegwu Ojukwu lies in state during the national inter- denominational funeral rites at Michael Opkara Square in Enugu. GETTY IMAGES
Ojukwu, in announcing the birth of the new republic on May 30, 1967, however gave the impression that the decision to secede wasn't his alone. "Having mandated me to proclaim on your behalf, and in your name, that Eastern Nigeria be a sovereign independent republic, now, therefore, I, Lieutenant Colonel Chukwuemeka Odumegwu Ojukwu, military governor of Eastern Nigeria, by virtue of the authority, and pursuant to the principles recited above, do hereby solemnly proclaim that the territory and region known as and called Eastern Nigeria together with her continental shelf and territorial waters, shall, henceforth, be an independent sovereign state of the name and title of The Republic of Biafra," he announced.
Ojukwu's declaration of Biafra's independence led to the civil war, as the federal government, under the leadership of Gowon, moved to stop him. For three years, Biafran fighters, under Ojukwu's command, squared up to the Nigerian soldiers. Conservative estimates put the casualty figure, in human lives, at over two million, among them about 700,000 soldiers.
The war, which began on July 6, 1967, came to an end on January 15, 1970, after the Biafrans surrendered. It was the lot of Phillip Effiong, who was the chief of general staff in the Biafran army, to read the surrender speech after Ojukwu fled to Ivory Coast, ostensibly in search of peace as he claimed. Ojukwu's trip to Ivory Coast turned out to be the beginning of a thirteen year exile in that west African country. He was later given a state pardon by the civilian administration of Shehu Shagari in 1982.
Thirteen years is a long time to be away from one's homeland, and enough to affect one's popularity. But in Ojukwu's case it turned out that the Igbo people hadn't forgotten about him. He was given a hero's welcome, right from the airport. And from that moment, wherever he went, Ojukwu was often greeted by a mammoth crowd of appreciative Igbo, hailing and cheering him. He was, to many of them, the authentic hero, a man who seemingly could do no wrong.
Fans of the man dismiss with a wave of hand, insinuations that their hero was driven more by his own ambitions than the love of his people, in declaring a state of Biafra. The simple answer that often rebounds on such viewpoint is Ojukwu's background.
The son of a millionaire father (some accounts credit Ojukwu's father as the first Nigerian millionaire) with a thriving business, Ojukwu junior was also a well educated man who earned his degrees from Oxford University. Were he a selfish man, his admirers rave, he would have been consumed more by fear or thought of losing his family property and wealth, than becoming head of state. He threw all those things overboard and even went on to lose his commission in the army.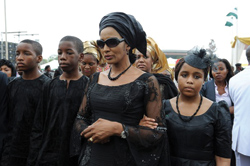 The widow of Nigeria's secessionist leader Odumegwu Ojukwu, Bianca Ojukwu (C), and her children arrive to attend the national inter-denominational funeral rites at Michael Opkara Square in Enugu. GETTY IMAGES
His return from exile marked another phase in his life. A couple of chieftaincy titles followed. His people honoured him with traditional titles of Ikemba Nnewi, Dike Dioranma of Igbo land and Eze Ndigbo. On his part, there was no doubt at all what Ojukwu thought of himself. He once described himself as a servant of the Igbo people. All through his life, and emboldened by the love and support of his people, Ojukwu left no one in doubt that he was the ultimate Igbo leader. To his Igbo title of Eze Ndigbo, Ojukwu would later add, Gburugburu, meaning 'chieftain or overall leader.' It was a way of making his title superior to those of other Igbo title holders. It spoke volumes about what he thought of himself regarding the Igbo race. He would later settle down to a life of politics. But, to the surprise of many people, the former warlord, upon his return from Ivory Coast, decided to join the then leading party, National Party of Nigeria, NPN, rather than Nigerian People's Party, NPP, which was regarded as the Igbo party.
But it didn't count for much as Ojukwu lost to the NPP candidate in his bid to become a senator. A publicist of his blamed this failure on some powerful people, who, fearing Ojukwu's popularity, and intent on preserving their own interest, influenced the outcome of the election.
Justifying his romance with NPN, Ojukwu said: "I joined NPN to bring the Igbo into the mainstream of Nigeria's politics since I was the one that pulled them out in the first place." Such jocular remarks were often a feature of the man Emeka Anyaoku, former Commonwealth Secretary General, hailed as "a great patriot and undisputed leader of the Ndigbo."
Although Ojukwu had cause to complain about his defeat by the NPP candidate in 1983, further attempts by him to contest the presidential elections on the platform of the All Progressives Grand Alliance, in 2003 came to nothing. The election was won by Olusegun Obasanjo. But, despite his failed presidential dream, the man's influence was a key to APGA winning both the 2003 and 2011 gubernatorial elections in Anambra State, one of the core Igbo states. (People's Democratic Party's claim of victory in 2003 was later upturned by the law courts, and the APGA candidate announced winner).
Although Ojukwu grew up in Lagos, much of the last two decades of his life were spent in Enugu, the former capital of the Eastern region, where he had held court as military governor five decades ago. His home in Enugu, where he lived with his wife, Bianca, a former beauty queen, and young children, was never an idle place, as people of all hue, including politicians courting his influence, trooped in to pay homage. He died in a London hospital, aged 78 after a long battle with stroke. The former Biafran strongman was first rushed to the University of Nigeria Teaching Hospital, Ituku Ozalla, near Enugu, in December 2010 after he went into coma. It was from there that he was referred abroad.
Since his death, there have been an outpouring of emotions among the Igbo folks and Nigerians generally.
Although there are those who argue that his decision to lead the secessionist Biafra diminishes his stature and place in the national standing, many others have hailed him as a great leader and soldier, a thinker, patriot, scholar, visionary and statesman who struggled for a just and egalitarian society.
Following his death, a funeral programme in his honour was later announced by Uche Chukwumerije, a senator, who was the vice-chairman of the burial committee. The ceremony, which began on February 8, saw the final rites of passage for the fallen Igbo leader take place in Zungeru, Northern Nigeria where he was born, and later Calabar and Lagos, followed by his lying in state in the Eastern states and his burial March 2 in Nnewi, Anambra State.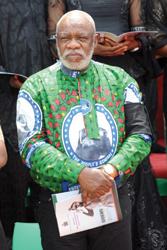 The first son of Nigeria's secessionist leader Sylvester Odumegwu-Ojukwu stands during the national inter- denominational funeral rites.
At the Lagos event which held on February 23, Babatunde Fashola, the governor of Lagos, called Ojukwu "one of the greatest Nigerian apostles of true federalism." He added that the Nigerian civil war of 1967 - 70, as he saw it, was not about secession but "Ojukwu's love for his people" and that "Nigeria's history will not be complete without a glaring mention of Ojukwu,"
****Tunji Braitewaite, who was the chairman of the occasion, noted that Ojukwu did not declare war against his fatherland but against "injustice, lie and corruption."
He however regretted that the ills Ojukwu fought against are still prevalent in the country. That is true. Nigeria is still facing the same crisis as was witnessed in 1966. Many Christians - and even Muslims- have lost their lives in violence instigated by the Islamic sect, Boko Haram. It's the latest addition, and perhaps the most dangerous of Nigeria's litany of problems. In the last one year, Nigeria has dominated the headlines more for the Boko Haram onslaught than for anything else. More than 1000 lives have been lost in bombing or robbery incidents linked to the group. Boko Haram interprets as "western education is a sin" and its war is principally targeted against Christians, of which majority are Igbo and southerners. But Muslims have not been spared from the attacks either, as many of them are known to have been killed by the sect.
Ojukwu was buried on March 3, with full military honours. This followed the decision of the Goodluck Jonathan administration to accord him a state burial, although led by the Igbo states and funded by them. The announcement of government's plan to honour him with a state burial, no doubt came as a pleasant surprise to many Igbo, given that the Nigerian Senate had earlier rejected a motion brought before it to that effect by Senator Andy Uba and his colleagues from the South East.
Deputy senate leader, Abdul Ningi, while giving reasons why the motion should be rejected, said the senate would be setting a precedent if it honours Ojukwu with a state burial. The senators, however, agreed that Ojukwu was a great man whose contributions to his people and country is well known and then urged the Eastern States to grant him a befitting burial.
That was exactly what they did, with the support of the federal government. Ojukwu's body toured the five Igbo States of Anambra, Abia, Ebonyi, Imo and Enugu before it was finally committed to mother earth in his hometown, Nnewi. The sight of wailing the Igbo, young and old, throughout the different stages of his funeral programme, across the Nigerian states, would remain an indelible part of the story of this ebullient and charismatic man who defied his father's advice not to join the military. He did.
Now that Ojukwu is gone, the question now is: who replaces him? Is there really anyone around who could step into Ojukwu's shoes?
That remains to be seen, but one name that has often propped up, even when Ojukwu was alive, is Ralph Uwazuruike, leader of the Movement for the Sovereign State of Biafra, MASSOB, and a group that says its mandate is to actualise the Biafra dream. Ojukwu was known to be a supporter, if not an admirer of Uwazuruike. Uwazuruike had, while recalling Ojukwu's contribution to the Igbo cause, described him as irreplaceable. But he says he is ready to fill the void created by his death. Perhaps, as a way of initiating or preparing him for the challenge, Uwazuruike was on January 14, 2012 conferred with a chieftaincy title of Ijele Ndigbo, by the same community that had crowned Ojukwu Eze Ndigbo some years ago. What significance there is to this is left to conjecture.
But time will tell whether Uwazuruike, should he get the mantle, can shoulder the weight of responsibility that comes with being Eze Ndigbo. But as most historians know, different times throws up different sorts of leaders. Can there really be another Ojukwu? The logical answer would be No.
Comment on this story

1


2012-04-12 21:49:07