EVENTS
AIMING HIGH FOR SUCCESS
05/30/07, Kayode Soyinka
Ecobank Group Managing Director and Chief Executive Officer Arnold Ekpe talks to Africa Today's Publisher and Editor-in-Chief Kayode Soyinka, in Cotonou, Benin Republic, about the current status and the future plans of Africa's truly regional bank.
Africa Today: The Ecobank group has again just posted record results just as you have done in the last few years. What has been responsible for these impressive results?
Ekpe: I think, as my chairman said today at the Annual General Meeting, Ecobank is unique as it started as a regional bank from the start with shareholders from 14 countries. So Ecobank does not belong to anyone country. Ecobank had a regional strategy from day one; so Ecobank is not like some of the national banks that are now going regional; we were regional from day one. The thing that is powerful about Ecobank is that it is the first time that Africans from different nationalities and cultures have come together to create a common institution and to do so successfully.
The head office is only about 30 people but we have about 10 or 11 nationalities there with standards that are not typically common to most African institutions. We were the first to do a triple listing; we were the first to adopt the IFRS (International Financial Reporting Standards) to be very competitive and very transparent. There is a lot more information in our annual report than in most annual reports and I think we are very committed to Africa. We are not a foreign bank coming into Africa; we are an African institution. We stayed in Liberia through out the war; we stayed in Ivory Coast through out the crisis. We continue to invest because for us that is our home. You cannot but invest in your home. Of course there were few difficult times from time to time but that is normal in life but we believe in Africa and that's what makes the difference.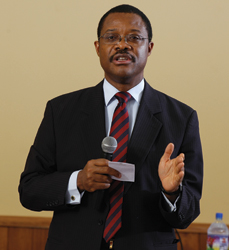 Africa Today: It seems that you have a massive operation in Nigeria. What is the level of the Nigerian operations to the overall result of the group?
EKPE: Oh yes, Nigeria is one of our biggest markets. It represents the second largest and one of the fastest growing markets in sub-Saharan Africa. For the group, it represents a region on its own and it gives the group about 30 percent of its profit which is the second highest for the group. Success in Nigeria affects the group's performance and to achieve that we recently moved to improve our market position in the country. We have acquired the assets and liabilities of All States Trust Bank and also increased the bank's network. Already the bank is diversifying, expanding distribution and building capacity.
Africa Today: The group now trades on three stock exchanges across the west African sub-region. What informed that decision?
Ekpe: Growth! Yes, we are the first to do a triple listing. It has never been done before. We were listed in three stock exchanges simultaneously (the Nigerian Stock Exchange, Ghana Stock Exchange and Abidjan-based Bourse Regionale des Valeurs Mobilieres (BRVM)). Don't forget, our objective is to make the bank the first Pan-African group on the continent. To achieve our main goal of building a world class African banking group, we feel providing a platform where our shares are sold simultaneously across the region is creating a sub-regional presence. You must remember that we were also the first to adopt the IFRS, which is an international reporting standard. This encourages good governance and transparency in our banking operations and endears us to the public. Overall the response has been good.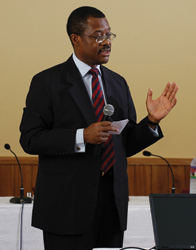 Africa Today: There are plans by the group to raise about $1.2 billion before the end of the year. How far have you gone towards achieving this?
Ekpe: We are looking for long-term investors not mutual funds or venture capital. We welcome external investors but while looking for investors, what we want is that the group should remain totally African so as to preserve its African identity. We are still the only true multinational in Africa with African roots. Celtel, which started in London, has been acquired so also Ashanti Goldfields in Ghana. International investors now seek the bank as a result of the multiple listing, but we must keep our unique regional identity.
Africa Today: Ecobank seems to be playing the Pan-African role admirably with operations across the west and central African regions. Are there plans to spread your operations to east and southern African regions?
Ekpe: The bank has plans for the east and central African regions, what we call the "Middle Belt of Africa". This region cannot be left out. It contains about 650 million people with a GDP of $350 million. We anticipate a growth in that region and would like to participate in it. We have acquired a number of banks to increase our presence in the region, to create a strong presence. It is a large region with potentials and it cannot be ignored. Of course, we know we cannot contest head on with north African banks or with south African banks but the group is creating a strong sub-regional presence across the west and central African region. The bank sees itself as an institution that has a role in African economies; our support of SMEs (Small and Medium Enterprises) through innovative macro finance schemes will play a part in the development of African economies. The group, with its financial resources and technology, will help drive that development.
Africa Today: What challenges are faced by the bank in the course of operating in different countries across west Africa?
Ekpe: We face the same challenges faced by other institutions, like Citibank, Shell, which operate across various regions. We have been able to overcome these challenges by learning, asking questions and merging (all together). We know it has been done before successfully but the difference is that Africans are doing it now and successfully too. What is of immense help is that the group operates as one bank with common policies, procedures and standards in all our operations. It is a learning experience but we have been able to learn quickly and be successful.
Africa Today: Countries in the west African region plan to have a common currency by December 2009. As a bank with branches across the region, what is your take on the proposed plan?
Ekpe: It will definitely be to our benefit if we have a common currency operating across the region. But at the moment we don't have it and so we have to resort to convertibility. But we still cannot do that too. Although as we all know, conversion is already taking place at the borders and market places but the banks can't do it. We are working with the various governments and regulatory authorities trying to convince them that if we do it, it will be beneficial to them because we will pay taxes; the others don't pay taxes. As for Ecobank, it has every thing in place: the people, the technology, but its just waiting for government's positive answer. We are waiting for such approvals so that we can have regional convertibility and that process is ongoing. Once we can get the authorities to approve it, the convergence criteria, convertibility become a lot easier.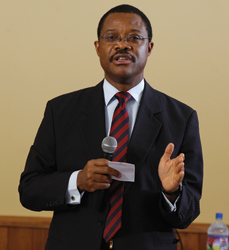 Africa Today: What is happening to the First Bank-Ecobank merger?
Ekpe: I would not want to say much about the merger as I have been misquoted in the past about the issue. But the group will soon come out with a statement that will clarify the issue.
Africa Today: I would want to press you further on the subject?
EKPE: I would rather you do not dwell on it.
Africa Today: Now with mergers, acquisitions and competition increasing in the African financial market, where do you expect Ecobank to be in the next 10 years?
Ekpe: Definitely I won't be here as the bank has a policy of putting young people in leadership position. I am going to be 54 next year and the bank's policy says 60 is the retirement age. The group is building a pool of young African talents with skills to move the group forward. I don't know about you, but I like to see young people succeed. I am happy when I see young people succeed. In the group we have 35-year-olds who are doing extremely well. One of them just won the chairman's award for growing the bank's network. Of course some of them do fail, but others succeed. The dream is to see the bank in 143 countries of the world and I believe it can be done. Citibank has done it and I see no reasons why Ecobank can't do it.
Profile: Arnold Ekpe
Arnold Ekpe returned as Ecobank's Group Chief Executive Officer in 2005. He was the Group Chief Executive Officer from 1996 to 2001 when he left to join United Bank for Africa (UBA), one of the top three banks in Nigeria as Chief Executive Officer from 2002 until 2004.
He has over 26 years of African and international banking experience having also worked in Europe, South Africa and West Africa for Citibank and First Chicago. He was Vice President and Head of Africa trade and corporate finance for Sub-Sahara Africa for Citibank. He executed landmark trade and corporate finance deals in West and Southern Africa. Mr. Ekpe holds degrees in mechanical engineering (1st class honours) and Business Administration from Manchester University and Manchester Business School respectively.