NIGERIA
Back for one more term
03/21/12, Iyke Umunnabike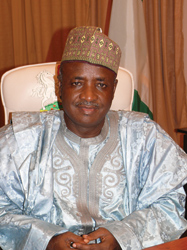 A winner always: Governor Aliyu Magatarkada Wamakko
In barely four years he has had to contest election three times. Three times he emerged as the preferred choice of the people. For Aliyu Magatarkada Wamakko, governor of Sokoto State, north west Nigeria, it was once more a vote of confidence when he won the last election held on February 20 with a landslide, clearing 518,247 of the votes, with his closest rival winning only 131,048 votes. Wamakko, a chieftain of Nigeria's ruling People's Democratic Party (PDP), won convincingly in all the 23 local government areas during the election held to decide who rules Sokoto for the next four years.
"The result is not surprising because Wamakko is a silent achiever who has identified and articulated policies that would touch the lives of the citizens," said one political analyst. "The government that has poverty reduction as cardinal programme, has mapped out strategies to develop important sectors of the economy for overall growth," he added.
Congratulating Wamakko on his victory, President Goodluck Jonathan said it was a manifestation of Sokoto people's "satisfaction with the performance of the Wamakko administration during his first term in office."
A former schoolteacher, accomplished administrator and grassroots politician, Wamakko first came to office on May 29, 2007 after wining that year's governorship election in Sokoto. He was however unseated eight months later by an appeal court following a legal challenge by one of the defeated candidates, who alleged irregularities during the election. A re-run was ordered by the court and Wamakko won it comfortably.
He took another oath of office on May 28, 2008 in the belief that his tenure would start afresh but Nigeria's Supreme Court on January 27 this year ruled that his tenure and that of four other state governors who won re-run elections in 2007 and 2008 had ended on May 29 last year. All five state governors affected by the judgement had to immediately vacate office.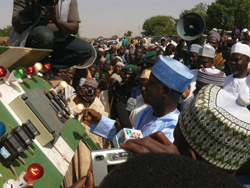 Governor Magatarkada Wamakko is seen here commissioning a project completed by his government
As it turned out, Wamakko's absence from the Government House was to last less than a month. Following his victory in the February 20 ballot, he was sworn-in two days later for a fresh four-year term.
"I will remain focused in addressing the problems of the people of the state which we have encapsulated in our blueprint for the development of Sokoto State," he said.
Though Sokoto State has witnessed huge developmental strides under Wamakko's watch, he insists that "this is just the beginning," adding that "the future is bright and beautiful."
The fresh endorsement was in a way a birthday present for Wamakko, who turned 59 on March 1. Born on March 1, 1953, Wamakko was educated up to post-graduate level at the University of Pittsburg, USA. He served as deputy governor from May 1999 until his voluntary resignation on March 15, 2006.
The "Silent Achiever," as Wamakko is called by his numerous admirers, has won over 100 awards and honours from different organisations for his contributions to the development of Sokoto State and Nigeria.
Just like Wamakko, two other governors removed by the Supreme Court on January 27 have since bounced back after winning fresh ballots in their various states.
On February 5, Murtala Nyako reclaimed the governorship seat of the north eastern state of Adamawa, winning 302,986 votes to beat his closest rival, who polled 260,405 votes.
And on February 25, Liyel Imoke beat 11 other contestants, winning 451,544 votes as against 31,026 by his closest rival, to reclaim his seat as governor of Cross River in Nigeria's south-south.
Governor Ibrahim Idris of north central Kogi State had already served two full terms and was ineligible to run again, thus paving the way for the emergence of a new face in the seat of power.
The biggest loser has been Timipre Sylva, who had enjoyed only one term as governor of the south-south state of Bayelsa, from where President Jonathan also hails. Sylva had hoped to contest again but was barred by his party allegedly at the instigation of President Jonathan with whom he had been squabbling over local politics.
For Wamakko and the others (all from the PDP) who weathered the storm to return to office, the fresh tenure presents yet another opportunity to positively touch the lives of millions in the oil-rich country impoverished by mismanagement by successive administrations.