LIBERIA
Inclusiveness Obligatory For Liberian Stability
06/09/12, Bryan Sims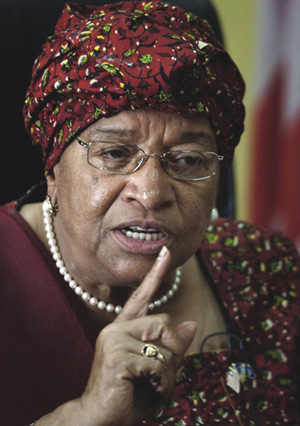 "Liberia's political parties and policy makers must work together to write a future that aims to build a pluralistic democracy inclusive of all shades of politics." Will President Johnson Sirleaf make it happen?
As President Ellen Johnson Sirleaf embarks on her second term, she must make it a priority to ensure greater inclusiveness within the political establishment. If the President fails to do so, Liberia's transition to democracy could falter and there is a high risk of renewed conflict.
The violence that erupted in Monrovia last November in the run-up to the presidential run-off was not a surprise to many observers and political insiders. The crucial period between the election and the presidential run-off, where tensions were at their highest, saw negative political rhetoric and campaigning reaching new crescendos. Opposition candidates and parties portrayed the electoral process as flawed and unfair, despite contrary evidence and international approval of the first locally managed election. The uncertainty, fear and unsubstantiated accusations of political interference ultimately put the supporters of President Ellen Johnson Sirleaf's Unity Party (UP) and the main opposition party, the Congress for Democratic Change (CDC) under the stewardship of Winston Tubman and former footballer-cum politician George Weah on a collision course.
The Liberian electorate has undergone a profound change since the 2005 internationally administrated elections. Liberians today have more expectations of their representatives and are more aware of the rights they now possess. Expectations, however, have not been met as is evident from a recent survey revealing that 45 per cent of the population is dissatisfied with the way democracy works in their country.
As an interviewed UNMIL representative described the discontent, politicians are "accountable to the power brokers in Monrovia, not the people." As UNMIL seeks to reduce its presence and move from a peacekeeping to a peace building mission, this past November offered a crude reminder to both Liberians and the international community that Liberia's peace nine years on from the end of the conflict remains a delicate balancing act between a success story and another tragedy on the continent.
During her first term, President Johnson Sirleaf spent her political capital resurrecting the country's international reputation. She and her government began to rebuild the institutions of the state, achieved Heavily Indebted Poor Countries Initiative status relieving Liberia of a US$4.9 billion debt burden attracted over US$16 billion in direct foreign investment and introduced a poverty reduction strategy that has seen some successes in securing greater food security, clean water and investments in infrastructure needed for the economy and sustainable livelihoods.
However, the President failed to engage the spectrum of political parties as a way to engender mutual understanding and to reiterate her commitment to upholding the country's new democratic dispensation. Her inability to do so has created a space for spoilers and opportunists to create misperceptions and obstruct government's responsibilities and programmes and has allowed suspicions to flourish among the political personalities that shape Liberia's politics. As a result Liberians openly doubt the sincerity of her intentions and the depth of Liberian democracy.
While the tasks her administration had to confront in 2005 were enormous, the administration's inability, or unwillingness, to create an inclusive environment that sought the participation of all Liberians has hindered progress. Most Liberians still lack basic access to infrastructure, healthcare, education and employment opportunities six years after Johnson Sirleaf first came to power. As a result, many ordinary tasks, like service delivery, have become politicised. Moreover, vitriolic statements are becoming normal in an increasingly hostile political environment, with members from each of Liberia's political parties slinging accusations at the other. As such, and as came to pass in November, the environment became ripe for confrontation and violence.
While not the only party to engage in antidemocratic behaviour, the CDC's attacks on the National
Elections Commission (NEC) and its refusal to partake in the presidential run-off highlighted the country's tenuous political stability. It also underscored the willingness of political parties to attack credible institutions and manipulate the anxieties of the electorate to win power and the benefits that accompany it.
In her second term, Johnson Sirleaf must work harder to engage opposition parties. Not only must she build mechanisms for communication and participation, but she must seek to entrench these mechanisms for a healthy and stable future. As she and her administration move to focus on domestic issues in this new term, she must build consensus while prioritizing reconciliation, engaging the country's youth (who form almost 60 percent of the population) and promoting participatory and accountable local governance structures. These are no easy tasks, and there are no simple solutions.
Liberia's ruling elite have yet to find a common language on reconciliation. The absence of initiatives on national reconciliation is having a profoundly negative impact on Liberian politics and within society. The Truth and Reconciliation Commission (TRC), approved by an Act of Parliament and created by the President, released a report in 2009 generated little political goodwill as most of the country's elite had a direct or indirect role in the conflict. The President, herself named as one of the 49 persons that should be barred from holding public office as a result of alleged roles played in the civil war, and following the release of the report, she has largely shunned the Commission and its recommendations despite a January 2011 ruling by the Supreme Court that determined disbarment is unconstitutional.
The most urgent recommendation according to a commissioner at the Independent National Human Rights Commission (INHRC), the guarantor of the TRC's recommendations is, embarking on a programme of national reconciliation. This includes supporting the National Palava Hut forum so that Liberians in rural areas can begin to face and reckon with the injustices of the past in order to move forward. Reconciliation also entails identifying those entitled to reparations, rehabilitating victims, memorialisation of massacres and injustices, prosecution of perpetrators and debarment of those perpetrators from politics. These tasks will require cross-community and cross-party cooperation. Those who attempt to politicise the process must be held accountable by their political party and should be publicly reprimanded by the INHRC.
Liberia's youth, many of whom are ex-combatants, remain unemployed, marginalised and dissatisfied with the pace of democratic progress. These youth are a key threat to security which stresses the need for a new approach to reintegration. Johnson Sirleaf acknowledged the need to address their grievances in her inaugural address. However, government and opposition parties must work together to absorb the youths into the labour market and deepen democratic values and beliefs among this key constituency. One example would be to work with the Ministry of Youth and Sports to build the capacity of the National Youth Volunteer Service, a five year old initiative that trains youths in a variety of disciplines throughout the country. If more of Liberia's youth are not brought into the new dispensation, they will remain susceptible to the kind of manipulation that led to one of the world's most violent conflicts.
The 30 percent quota for female candidates enacted during the 2005 elections was not implemented in 2011. This put female candidates at a significant disadvantage with the President acknowledging that there would likely be fewer women in the legislature as a result. The parties have a responsibility to ensure the gains women have made are protected and to continue with efforts to rectify gender imbalances.
Local governance must be strengthened and made more accountable so that Liberians outside of Monrovia are able to create functional relationships between themselves and government and so they can attain greater influence and more control over critical local resources. One UNMIL official posited that many of those in the government, including legislators and ministries are against decentralisation because they will have to not only cede power, but close channels of patronage. The centralisation of power in the capital and marginalisation of the rural populations was a key driver of the conflict. If government is to seek greater participation in order to "ensure a more wholesome process of development and democratic governance," as its National Policy on Decentralization states, then decentralisation must become a priority in the President's second term.
Lastly, as the President moves forward with her ministerial nominations, she must be mindful of the ability of her nominees to perform their responsibilities, but she must also aim to be inclusive by incorporating qualified members of opposition parties, women, and trying to achieve a regional and ethnic balance. While this may not be customary in most electoral democracies, Liberia's challenges require its leadership to take up unique measures that aim to include those who fared less favourably in elections, as well as members of ethnic groups and women.
Signs of greater political tolerance and inclusiveness have emerged since Johnson Sirleaf took office in January. The CDC, which increasingly looked as if it would boycott the inauguration, not only attended the event but welcomed her speech for pressing the need to focus on lifting up Liberians. Furthermore, the CDC acknowledged that it was holding talks with the UP that could lead to its members taking positions within the administration. This is a significant departure from the previous six years and one that could lead to a significant step toward democratic consolidation. Liberia's history was determined by the politics of exclusion and bigotry. If history is not to be repeated, not only the President and her administration, but all of Liberia's political parties and policy makers must work together to write a future that aims to build a pluralistic democracy inclusive of all shades of politics.
*Bryan Sims is a political analyst with the States in Transition Observatory of Idasa and this piece was first published by Idasa, (An African Democracy Institute) on February 22, 2012.