WIMBLEDON
Like wine, Serena is better with age
08/07/12, Isaac Umunna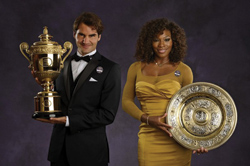 Serena Williams and Federra showing off their Wimbledon 2012 championship trophies at the championship dinner at the InterContinental Hotel in Park Lane, London. GETTY IMAGES
Judging from her blistering form on her way to winning her fifth Wimbledon singles title, it may be safe to say that the best is yet to come from Serena Williams.
"I have never seen serving like that before... It was not just the quality and the power, with the fastest of those serves measured at 120 miles per hour, but also the uncanny timing... It is surely the greatest shot the women's game has ever seen."
That was tennis legend American John McEnroe, multiple Grand Slam champion-turned influential Tennis commentator and analyst, when asked to comment on Serena Williams' serve during her Wimbledon final match against Polish third seed Agnieszka Radwanska on July 7.
Serena had set a record for serving the greatest number of aces. She served 23 aces in her quarter final match and 24 in the semi final. Although she served just 16 in the final she had more than 100 aces during the championship to become the biggest server of aces in both the men's and women's tournaments this year. She had stood at 85 aces going into the final but ended up surpassing even Germany's Philipp Kohlschreiber who ended his campaign on 98.
More importantly, Serena overcame some anxious moments to triumph 6-1, 5-7, 6-2 and become the first woman over 30 to win Wimbledon since Martina Navratilova achieved the feat at age 33 in 1990.
It was Serena's first final at the majors since her last Wimbledon crown in 2010 and a welcome relief after her unexpected first round exit against Virginie Razzano in June at the French Open.
With her victory over the 23 years old Radwanska in just over two hours on the Centre Court of the All England Club, Serena chalked up her 14th Grand Slam title and equalled elder sister Venus' tally of five Wimbledon singles titles.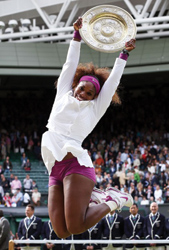 Serena Williams jumps in the air after winning her fifth Wimbledon ladies trophy
Seeded sixth at the tournament, she had beaten the better ranked Victoria Azarenka (No. 2), Radwanska (No. 3) and defending champion Petra Kvitova (No. 4).
After her victory, Serena dropped down to the grass, her hands covering her face. She later shed tears of joy during the on-court trophy ceremony. "Coming here and winning today is amazing," she said. "It's been an unbelievable journey for me."
Later that night, Serena partnered Venus to defeat the Czech pair Andrea Hlavackova and Lucie Hradecka 7-5 6-4 to win their sixth Ladies Doubles title. Her power sapped by the auto-immune disease which has prevented her from being at her best, Venus had exited the tournament in the first round, and had to console herself with the role of cheerleader for Serena.
Serena's descent to near tennis wilderness, from which many never expected her to recover, had started days after she won the Wimbledon for the fourth time in 2010. First, she cut both feet on broken glass while leaving a restaurant in Germany and needed two operations on her right foot. Then she needed to inject herself with a blood thinner after blood clots were discovered in her lungs. But that resulted in another problem, as the shots led to a pool of blood gathering under her stomach's skin, requiring another procedure.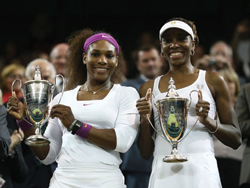 Serena with her sister Venus showing off their Wimbledon 2012 Ladies Doubles trophy
Then came more setbacks in 2011. For Serena, life as a tennis player seemed to have been practically over when she was afflicted with a depressing series of health scares that sent her to the hospital repeatedly and kept her away from tennis for 10 months. Many thought the Williams era was coming to an end, but how wrong they were!
"I just remember, I was on the couch and I didn't leave the whole day, for two days. I was just over it. I was praying, like, 'I can't take any more. I've endured enough. Let me be able to get through this,' " Serena recalled.
Now that she has got her groove back, Serena sees many more titles coming her way. Asked what more she could possibly want, she replied: "Are you kidding? The US Open. The Australian Open. The French Open. Wimbledon, 2013."
But she'd first like to excel at the London 2012 Olympic Games. According to Serena, "Coming back here and winning Olympic gold with Venus in the doubles would be great."
"I've never felt better, I feel really awesome and amazing," she said. "Everything is going great. I'm like a fine wine - I get better with age and I'm going to carry on for years to come."
Considering her return from the dead to shock the world at Wimbledon 2012, it doesn't make much sense to disbelieve her.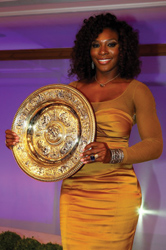 Serena Williams with Wimbledon 2012 trophy