OJUKWU SPECIAL
Interview
03/21/12, Africa Today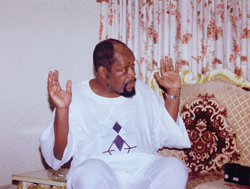 "I am old fashioned in my concept of patriotism. I will never wish ill on Nigeria"
Emeka Odumegwu Ojukwu, the irrepressible former Biafran warlord died in a United Kingdom hospital on November 26, 2011and was buried in Nnewi, his hometown, in Anambra State, in eastern Nigeria on Friday March 2. In one of the greatest ironies of history, Ojukwu, a man who led a rebellion against his country was given a national funeral and was eulogised as a nationalist. Yet in death he remains a polarising and controversial figure. In late 1998, Africa Today interviewed Ojukwu on a range of issues, including the civil war, politics in Nigeria, etc, and his roles in them. The interview was vintage Ojukwu and was first published in the January 1999 issue of the magazine. The interview is now reprinted for our readers, new and old, in this issue of Africa Today.
AFRICA TODAY: Let's start from the just concluded registration of political parties in Nigeria. Out of 29 political associations that applied for registration as political parties, nine were registered and your association, the People's Democratic Congress, was curiously not registered. Your supporters are outraged. Many are surprised. How do you interpret all this?
Ojukwu: I thank you. And may I take this unique opportunity to send my humble greetings to your very many readers across the continent of Africa and indeed beyond. I choose to start this way because actually I am one of those old Africans who believes still very much in pan-Africanism, and I feel that, that substance moving away from our politics has left us all soft and mushy and we are like an invertebrate animal today. We haven't got a backbone, neither do we know where we are going". I think that the pan-Africanist element of our politics is what is really sadly lacking.
Having said that let me turn my attention to your question. Yes I was very, very surprised that the PDC was not registered. Looking at the various requirements they demanded for the registration of parties, I am absolutely confident that we fulfilled the various requirements for the registration of PDC as a party We applied to be registered. We paid the requested amount. We obtained the forms; we returned the forms duly completed. I set up offices of the PDC in 34 of 36 states, including Abuja, the federal capital. I gave addresses of all our offices and we had staff in all the offices. We had more than the five required staff in all the offices. We presented the list of PDC executives in every state.
I make no bones about this: After the war, it is true that the Igbos of Nigeria have always had this bond of marriage with me. So you find that in Nigeria, wherever there is an Igbo community, particularly an Igbo community outside Igboland, there is a feeling that they are in the battle front and they have a greater need for Emeka Odumegwu Ojukwu. Generally they are part of my constituency and incidentally there is no part of Nigeria where Igbos alone will not constitute the 10 per cent required by the INEC Independent National Electoral Commission, so there are two possible reasons I see for refusal to register the PDC. One, you can bear in mind the Nigeria factor, which boils down to corruption. I know that it could be in the interest of one or two people to pay some money to some quarters to ensure that my party does not appear in the list. But more importantly I feel that within the army there are nonentities, whose only claim to pre-eminence in Nigeria is that they conducted and took part in a destructive civil war against me leading the Biafrans. These are men who refuse to accept the free unconditional and total pardon granted me by President Shehu Shagari. They queried it when the thought was mooted. Ever since my return, they have been waging a rear guard action to nullify the effect of my return to Nigeria. To these people of course, I continue to say without the slightest doubt, that they going to fail. I am already back; I am a Nigerian; I will remain a Nigerian and I will do everything a Nigerian is expected to do.
AFRICA TODAY: Do you feel intimidated?
Ojukwu: I will not be intimidated. I just laugh at them because I am made of much sterner stuff. I don't think they can even outlast me. You saw the crowd of politicians here this afternoon. They could not even find a space inside and outside the premises.
AFRICA TODAY: Does this mean you are joining hands with other political parties?
"There has never politically been a south in Nigeria. I think the introduction of south at this time is purely to confuse and a lot of people have bitten on that bait. What is the south? I know the east. I know the west."
Ojukwu: Well, other political parties are seeking to join hands with me. In fact, I am laughing and enjoying myself. I said to them delegation of political parties at one stage that I wake up in the morning and I have my bath, comb my hair, and apply the various lotions and powder because I enjoy being the beautiful bride... So basically I believe that whoever tries to disenfranchise members of my party by refusing to register our party will be disappointed. His intention will fail because I will come out in another party. I will take my supporters into another party. We will take part in the transition programme and have an effect on the outcome of the transition programme.
AFRICA TODAY: One very interesting topic of political discourse today is a power shift to southern Nigeria, since power has resided in the north for 34 of the 38 years of Nigeria's independence. But it seems that when Nigerians talk about a power shift to the south, the assumption is south- west, not south-east - where you hail from - or south-south. Is this your understanding?
Ojukwu: I feel that Nigeria being a federation, we should always talk about Nigeria in that federated frame of mind. You see, in actual fact there is no such thing as south in Nigeria. In the context of a federated unit we have east, west and north. There has never politically been a south in Nigeria. I think the introduction of south at this time is purely to confuse and a lot of people have bitten on that bait. What is the south? I know the east. I know the west. But I have to think hard to find out who the south really is. I don't say that you cannot design a south. Of course you can. But you see, for me, you have to build the south first before you use it politically So when somebody in a federation where there were clear three federating units (which we have now modified and made six) says to me that power shift is between north and south, my reaction is that there is no such thing. There are either three or six areas as far as power shift is concerned.
Now, I am by nature, by philosophy, indeed by education and training a democrat. I believe in democratic practice. Now you say do you believe in power shift? My answer is that I believe in any shift occasioned by democracy If that power shift is democratic, I go by it. Put it this way, should suddenly something happen, an army officer from the south-south zone with some of his colleagues take over power in Nigeria tomorrow I wouldn't support it, even though power shifted. So what I am after is a democratic shift. When we went to the constitutional conference in 1995, we discussed for a long time the whole question of power. There are two things wrong with power in Nigeria. People think power should be exercised. Of course that is right. The emphasis should be on power-sharing, not exercise or shift. Then you find that, unfortunately for us, it appears that all forces at the command of the north have been concentrated at securing power. To the extent to which the election that took them to power is free and fair, I have no objection. But each time they have taken power by force of arms, I oppose it. Now there has been this unholy alliance between the military and the north, which seems to have a stranglehold on Nigeria. And this has made it possible for the north to be ruling Nigeria, practically all the time.
It is because of the difficulty of easing the military out that as a national compromise we worked out the formula for a shift of power. I have to go to this length to explain it because everybody just looks at it as the right formula or philosophy. No. It is a philosophy which arose out of the painful necessity of looking for any way to find a sense of belonging in Nigeria. So we opted at the constitutional conference (of which I was a member) for power shift. And it then became a popular topic. It's still mere talk because nobody is sure what the constitution would say.
Now the question of whether it is the turn of the south-west, south-east or south-south is a media problem (hype). The media in Nigeria being in the hands of the south-west interprets everything to the advantage of the south-west. The south-south can't say much, the south-east can't say much because they have no voice in the media. We have been crowded out of the media. So whenever anybody says power shift, you tend to hear only the south-west laying claim to it. Their reason is that they have been wronged, that they were wronged by this June 12 business. I say to the south-west, the sooner they drop that argument the better for them. They should find what all of us in the south actually can subscribe to and let us join hands and face this question of concentration of political power in the north. Each time they want to get it as an advantage why should the south-east or the south-south accept. Because this idea of looking for an advantage where no advantage is called for is one of the failures of the south- west political struggle in Nigeria. There are gestures you should make for the solidarity of the entirety of the south.
AFRICA TODAY: You were at the constitutional conference that decided on this issue of rotating the presidency of Nigeria around the six new regions. Is a rotating presidency really the ideal solution to Nigeria's political problems?
Ojukwu: The important thing to bear in mind is that no political solution is perfect. Now there are countries that actually run on a rotational presidency. The one that comes to mind immediately is Switzerland. But my point is that all politics in a federation is an interaction between the federating units, each wanting to protect its own rights. A federating unit is that unit in a federation that actually acceded to the federal agreement. That means a tacit acceptance that power belongs to you but you have given some to the federal centre. So when you talk about the rotation of the presidency of Nigeria, I say again this is the major compromise actually made because when you are a Nigerian and you are faced with 38 years and find clearly for so many reasons that the route to the presidency is blocked, you are looking for a way around it. And if you can't get there because you are quite willing to falsify the census figures and maintain that you are bigger than everybody and if you have no qualms about rigging elections, if you have no qualms about riding into the presidential palace any time you want on the back of army tanks; so let's write it into the constitution, that this power must rotate. The idea was to nullify a lot of the Nigerian aberrations. That's why we went in for rotation". I support rotation and it is a support which I look upon as a Nigerian consensus in 1995. And I said instead of going back each time, let us base our future on that 1995 consensus and let's move from there forward.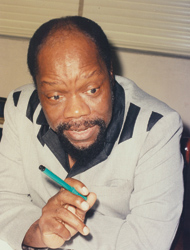 You cannot assess elections just by arriving hours before elections and being taken on a tourist ride around the polling stations
AFRICA TODAY: So where do we start the rotation from?
Ojukwu: Let's start it from me (general laughter)". So what I've said actually is that everybody wants it to start from the area most advantageous to himself. It is in fact in an effort to ensure which area it would start that the question of power shift has begun to take currency... I believe that ` since it is now being offered to the south, that the choice should be democratically made within the south.
AFRICA TODAY: There seems to be a lot of political schism in the geographical south. The much expected handshake across the Niger doesn't appear to be forthcoming. Can the Igbos of the south-east and Yorubas of the south-west ever co-operate politically to form a strong southern bloc along with the minority tribes of the south- south?
Ojukwu: I don't see why not. In fact if we are true politicians, the beginning of wisdom is an understanding between the east and the west, since we are being confronted face to face with the bloc called the north. When I was at school, I know it's many years ago but I am sure they are still teaching the same thing, the opposite of the north is the south, it's never been east and west. So we must create a south that will become the opposite of north. And how do we do it? I say even today that the PDC and the Alliance for Democracy (AD), which is essentially a south-west party, were the only two ideological parties in Nigeria before INEC for inexplicable reasons refused to register the PDC. These two could have worked together whether you like it or not. In a situation that finds the AD struggling and the PDC struggling and working together. Then you can be sure all Igbos, all Yorubas, all Ibibio, Efiks, Ijaws, will find a need to coalesce and come together to win this battle. And actually there are so many things in Nigeria that the east and the west can look into and decide who, where and what goes where. If the presidency has to go to the west, that can never be my problem. My problem is, when that happens, what goes to the east. Now if you are prepared to then satisfy me, then we have a basis for discussion. But if you refuse constantly to discuss that other side, particularly after this age-long suspicion, then you are in trouble for ever. We can sit round a table. And I will put this bluntly to you: If you want to be president, Mr Akin Oluwole, with my support, do you agree that Mr Ikechukwu Onuara should be the next governor of Lagos? Then we balance it out... Look at Lagos, for example, there should be many non-Yoruba judges in the court. Why shouldn't there be non-Yoruba permanent secretaries in Lagos... I agree that you Akin should be president but to balance it out, I want ministry of defence, etc. That's how brothers share their patrimony...
AFRICA TODAY: At the moment, are you, I mean east and west, talking with regard to this power shift?
Ojukwu: We are sending messages to each other instead of talking. Again I am saying to my friends, my brothers and sisters of the south-west, let us start the dialogue now, no matter what it costs us. The future lies in the east. East and west making a success of an enterprise rather than constantly having their heads twisted backwards, looking at their failures of the past. If you are looking on failure, you are fixated on failure but if you move on from this point and say let us co-operate and collaborate, I can assure you, we can achieve a lot and after that everybody would be swearing by the efficiency of the east-west collaboration.
AFRICA TODAY: I was speaking to someone here in Enugu this morning and he churned out what he called a "history of betrayal" of the east by the west. He said the west deceived the east into the civil war and this among other things has made it difficult for the east to trust the west. Would you subscribe to that as the basic problem plaguing east-west relations?
Ojukwu: If I say which I always say, that the west betrayed the east, I am sufficiently democratic to accept the possibility that a westerner would say that the east betrayed the west. But the only way to reconcile this is through dialogue. But I have gone beyond dialogue because waiting for this has cost us three decades. And it is for this that I say let us drop it all. Nobody should apologise to anybody again. Forget it. Those who are dead will not come to life because of apologies. Let us just get together, discuss our present predicament, plan our strategy for overcoming it together and go in for victory together. That way, things of the past would just fade from our memory
AFRICA TODAY: One of the things of the past was the civil war. You were the Biafran leader and commander-in-chief. Did you personally feel let down or betrayed because the west did not secede as their leaders promised after you declared Biafra?
Ojukwu: Naturally. Every suffering I have had derives from that word betrayal. And when I say betrayal, I put it in inverted comas, because they might have a different interpretation and I believe that every family in the east that lost a loved one during that period certainly still feels the pain. But you see nobody should carry pain as a badge on his chest. Pain is private. Keep it private. Suffer it. The only thing that can wipe out pain is something pleasurable. So let us get together and seek pleasure instead of dwelling in pain. We cannot create a nation of masochists. No what we want is people who look forward. When I came back from exile I said this and I still maintain it. God is so powerful that if He wished He could have put our eyes, either two in front or two behind so that we can be looking in both directions at the same time but in his infinite wisdom He put the two eyes in front. What God is saying to us is "look forward to the future". That's where we should be looking.
AFRICA TODAY: With the benefit of hindsight, without necessarily looking backwards, do you think that the geographical area now called Nigeria would have been a better place, if the west and north had gone their different ways to form their own country at the time you led the East to secession?
Ojukwu: I generally refuse to answer "if" questions... But I believe that a credible threat of east and west pulling out at that time would have brought the north to its senses. (And please let my brothers and sisters in the north forgive me when I say the north, it's just for ease of communications because there was a northern military, and civilian etc.) That is what actually went wrong. I would have expected from the west up to a point that threat. And I would have expected it even after the declaration of the state of Biafra, rather than find my philosophical partner becoming the minister of finance and the anointed crown prince, etc. But the most painful was our brothers and sisters in the west turning their weaponry against us and actually shooting at us.
Look forward to the future. That's where we should be looking.
AFRICA TODAY: From media reports, some respected names in the west and pro-democracy groups are still insisting on a sovereign national conference. We have also seen banners and heard talks about the Oduduwa Republic, meaning that Nigerians are still far from satisfied with the political structure of the country. If the west seceded, would the east follow suit?
Ojukwu: My name is Ojukwu general laughter). My name is not Obafemi Awolowo... The problem today first of all, is that 1967 bears very little resemblance to 1998. A great deal has happened. Nigeria cannot go back to the truth of 1967. We have to face the realities of 1998. Having said that, the problem which the west sees and, believe you me, I have every sympathy for them, cannot be solved by pulling out unilaterally. And then I find it even more painful that in this period, this threat does nothing but produce confusion... But I know that the west will not do it. They cannot take that type of initiative. So let us stop raising the temperature. Let us sit round the table to discuss.
I have said that there are two ways of ending military rule. If you want, you can take your stone, or whatever and stone the military out of power. It can be done. Some countries have done it. But if you are not prepared to do this and you are always afraid of the bullets, then be reasonable. Sovereign national conference? pause. You really think that the military will say one day, come and hold the sovereign national conference? What sovereign national conference means is that the conference will be for that period the sovereign of Nigeria - the government of Nigeria. And whatever it decides goes. What it then means is that the military have abdicated power. And can you see the Nigerian military abdicating power just by your screaming on the pages of newspapers.
Ask anytime for a national conference, you will be right. In fact, I see the last constitutional conference as a national conference and I know the limitations we had from the military on that conference. I say therefore, let us accept the compromise of the 1995 constitutional conference and insist that succeeding civilian governments should immediately set the stage for a sovereign national conference, where in greater freedom, we can repair a number of things we did not dare touch under the military. This is my attitude. But when you say sovereign national conference now, you are bringing confusion and very often a number of the proposals from the west, with all due respect, tend logically to anarchy And that is the weakness of their posture. My God, I love the west. I was brought up in the west. I spoke the Yoruba language even before I ever spoke Igbo. I went to school there. But they make this mistake of going at everything with blinkers on. They don't see side-wards. They don't even understand the need of taking the east along with them. When you are weak and you have problems, you go out and seek friends. You don't sit in your house expecting friends to come to you. But precisely that appears to be their policy
AFRICA TODAY: Recently Nobel Prize winner Wole Soyinka returned to Nigeria briefly and he was so concerned about the situation in Nigeria that he said another Biafra could happen. What do you say to this?
Ojukwu; I congratulate him in his use of English words but I don't think there is much sense in it.
AFRICA TODAY: Your people, the Igbos, have been talking of late about marginalisation. Some would have thought marginalisation is a subject for smaller and minority Nigerian tribes and not one of the big three. How are the Igbos marginalised?
Ojukwu; We are marginalised in every way. Again you might call this semantics but this concept of the big three I find very odd. In actual fact it is only now that Igbos realise that we are the biggest minority tribe in Nigeria. And this is how we should be looking at ourselves. I don't know where you have been since you crossed the Niger to come to this house but look at our roads, you will see clearly the evidence of marginalisation. If you can, compare the Enugu you knew in 1959, if you were born, with the Kaduna you knew in 1959, you will see clear evidence of marginalisation. I am talking of the east in general and not only Ndigbo.
We started at independence with Nigeria accepting that the national income would be distributed on a 50-50 basis, based on where the produce emanates from. I find Nigeria today giving only 11-12 per cent instead of the agreed 50 per cent at independence to the area where the produce emanates from. There is marginalisation there. In the constitutional conference, I fought very much and brought it up to 13 per cent but even then it hasn't been done. That is marginalisation. I find marginalisation in education. Policies of quota, catchment areas, etc. have marginalised people from the east. Whenever it becomes necessary to get a job by denying your own origin, that is marginalisation. People join the armed forces by faking their origin, that is marginalisation. There is certainly marginalisation in the high echelons of the armed forces and indeed all the security services. The catalogue of marginalisation is so much. You see marginalisation in political appointments. You see certain departments of government where people from the east are never allowed to have access to such offices... Nothing will make me accept that all the drug-pushers in Nigeria come from the east. It is not true. Nothing will make me accept that all the strugglers came from the east. I don't agree. Nothing will make me believe that all those that have defrauded banks are easterners. I don't agree. These are all efforts to marginalise the east. In this country you are not permitted to be rich neither are you permitted to be honest. In my own way, I, Emeka Odumegwu Ojukwu sitting before you here am marginalised in politics. They simply ensure that my party is not registered. Why? Whatever it is, I am back in Nigeria. I should be a citizen. But I am one person not permitted to be a Nigerian, not to talk of being a good Nigerian. Nobody wants to hear of it. That's marginalisation.
AFRICA TODAY: Who is marginalising you? Who is marginalising the Igbos?
Ojukwu; That question has very often been thrown at me as a challenge. But I will give you the answer bluntly. The person marginalising me is the person who thinks he has something to gain by maintaining the war situation without the fighting. They are the ones marginalising me. They don't allow you to fight but they want to keep the war situation alive. It is so easy to seize my fathers property by calling me a rebel. By the year 2000, they will still hold my property and because they had called me a rebel they justify their banditry That's marginalisation.
AFRICA TODAY: Are you saying that Nigeria's politics and policies today are a continuation of the civil war by another means?
Ojukwu; To a large extent (and because you ask the question), yes. But to make it more correct, lets put it this way: Nigerian policies appear to the easterners as though they are still a continuation of the civil war by another means.
AFRICA TODAY: But what do the Igbos really want as a people, that they are not getting?
Ojukwu; I would answer with modesty because I am not the entirety of the Igbo people. But ' having said that, we want to be free to live anywhere. We want to be equally Nigerian as any other Nigerian anywhere. We want to develop without hindrance provided we do not cause an upset to other people's development. We want to ascend to any position in the land just like any other Nigerian. We Igbo-Nigerians have so much that we can give to Nigeria. In fact our greatest disappointment and frustration derive from the fact that we can. proudly say that given the chance we are very capable of moving Nigeria to the 21st century and competing with any other people on earth. We have the means, the knowledge, the men and the women.
Can you imagine how frustrating it is that we have so much to offer but are now being consigned to the backyard as carriers of water and hewers of wood. What can be more painful than the people of the east sitting on the wealth of Nigeria and having no say whatsoever in the sharing of that wealth. I want to take this opportunity to say to the esse people of the delta, that I am very sympathetic to their plight. I offer my self for any job that can be done to alleviate that sorrow. Any country that loses in one single event nearly 1,000 citizens deserves to be declared a disaster area. And I want to take this opportunity to plead with the federal government not just to pay medical bills but to take it up to rehabilitate our brothers and sisters who have survived that catastrophe...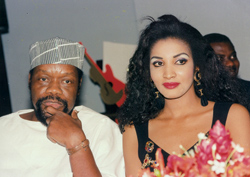 Ojukwu, with wife Bianca
AFRICA TODAY: The Niger delta problem, running from Isaac Boro to Ken Saro Wiwa and now the Ijaws and the jesse tragedy along with the clamour for independence or self- determination in most parts of Nigeria, seems to suggest that things you had foreseen way back in the 60s and asked for and resulted in the civil war are what most parts of the country are agitating for today Some people believe you are vindicated.
Ojukwu; There is no doubt about that. I believe that I am vindicated. But rather than wallow in self-praise, there is a need to bring about a greater under- standing in Nigeria. I have said to you already that power should be shaped. Rather than it should be decentralised. I said and I maintain it that people should feel part of government rather than make it exclusive to a few... These oil-producing peoples are perhaps the most exploited people in Nigeria. Actually they are not seeking to move away as a separate entity. They don't want to. But it is their frustrations that make them now question their manhood. This is what has brought about their reaction. This is the problem.
AFRICA TODAY; Some minutes ago I asked you what the Igbo people really want. Now let me ask you: what does Ojukwu want for himself?
Ojukwu; At 65, I want to die in peace. At 65, I want to have the opportunity of becoming the best Nigerian of my time. I want to leave a mark on Nigeria, that forever people will remember that Emeka Odumegwu Ojukwu was a Nigerian. I would like to be loved by Nigerians, all of them.
AFRICA TODAY: Would you like to be in Aso Rock as the president of Nigeria?
Ojukwu; You see, people always ask me that question. It isn't the object of my living. It can never be a do or die affair. I have been head of state of the Republic of Biafra and I am very proud of that fact. So I know the limitations of the head-ship of state. But what I am telling you is this: my religion has taught me that the presidency is something given by God. At the same time that religion has taught me also that it is my duty at all stages to preserve and polish up myself so as to be a suitable vessel for carrying God's responsibility wherever-He chooses to bestow it. So God gives the presidency but it is my duty to prepare and polish myself just in case he says, 'Emeka, take it'.
AFRICA TODAY; There is an Igbo son, whose political profile, in respect of the presidency, appear to be on the rise right now. I am talking about former vice president Alex Ekwueme. Are you rivals?
Ojukwu; Long pause He is shorter than me; I am taller than him. He is lighter than me; I am darker than him. I call him my brother, he calls me the same. ' Rivals? I don't think so. Alex and I were at King's College, Lagos, together. He was my very good friend at school. During the war we maintained a certain friendship and so on. Rivals? Rivals for what?
AFRICA TODAY: For the presidency and Igbo leadership.
Ojukwu; For the presidency? I have never declared my wanting that job. If he gets it I will be happy and I will be proud to serve not just under him but him. We are certainly not rivals. `What I have he cannot have...
AFRICA TODAY: Another friend and contemporary of yours, I believe, is General Olusegun Obasanjo. What advice would you give him in respect of reports that he is being pushed to contest the presidency?
Ojukwu; No, no, no, no. In this business nobody pushes you. Let's get that very straight. The thing I would like him to bear in mind is this: let him make sure that whatever decision he takes is his own decision. Very often we End ourselves trying to impress but whenever you do that and you don't actually make up your mind, you tend to run into difficulties. I must say this because Segun and I actually met and served together in the fifth battalion of the Nigerian army That was at Kano in 1965. And ever since then we're known each other. Now if at this stage, what he wants is a repeat performance, then I hope that in going into it, he would remember that Nigerians are brothers. He should remember also that the only validity he has since is what the Yorubas think of him. Therefore, start from home being pretty before you present yourself to the world.
AFRICA TODAY: Some analysts have said that he is more highly respected overseas than in Nigeria and more acceptable in Nigeria than in his home base in the south-west.
Ojukwu; That is the problem. It should be the other way round. He is a man who seems to be running upside down, from front to back. God did not make a mistake when he created him a Yoruba man.
AFRICA TODAY: What is your perception of the on-going political transition programme. Is the optimism of Nigerians and the international community justified or misplaced?
Ojukwu; The military is still very firmly in control of Nigeria. I do not see too much of a difference between the Abacha regime and the Abubakar regime, other than in the realms of public relations. But that notwithstanding, Nigerians are so anxious to ease the military out of power that Nigerians would take anything to achieve that purpose. We are not in the business now of politicking governance. We are just looking for a way out of the predicament of having to suffer military governance. And I am one of those who have to be optimistic about the transition programme. But there are many shortcomings. The very first one is the registration of parties. I have already spoken on the registration of parties... How come voters' cards were scarce in some parts of the Nigeria and not in other parts? Indeed I would like to see the international observers for the elections arrive here in Nigeria long before the elections so that they can get to know about the Nigerians before we vote. You cannot assess elections just by arriving hours before the elections and being taken on a tourist ride around the polling stations.
AFRICA TODAY: Do you think that the sudden deaths of General Abacha and Chief M K O Abiola have paved the way for Nigeria to make a fresh attempt at democracy?
Ojukwu; The deaths of these two gentlemen certainly leave a lot to be regretted. Pave the way? No. But we can use their deaths to pave the way to a new Nigeria. When we look at them we see the ephemeral nature of life, position and we become wiser in knowing that in life death is always present and that we as human beings can plan anything but the Almighty will have His way
AFRICA TODAY; How close were you to Abacha and Abiola? How would you assess them now?
Ojukwu; You know in Nigeria everybody want to be friends with great people. So it is possible that I can now boast that Abacha was my friend. He wasn't. I respected him, I must say And he respected me a great deal. Of all the military men in power I met on my return from exile, he was the one who gave me the greatest respect. No doubt about it. I certainly acknowledged that fact and reciprocated it. But having said that, friends? I don't think so. I was already a lieutenant colonel when he joined the army so how can we be friends. I don't think I even trained those who trained him.
AFRICA TODAY: But during the early part of his administration, you were one of those he sent to Europe to polish his image.
Ojukwu; I must say that I am old-fashioned in my concept of patriotism. I will never wish ill on Nigeria. I felt that I had enough contacts abroad, particularly when some people were insisting on economic sanctions against Nigeria. So I said no, let me go forward and show them that there are two sides to the Nigerian economy. There are those who think the answer is violence and confrontation and there are those like myself, who perhaps because of my age, believe in constructive engagement. I also believed that the points that were arrived at the constitutional conference are landmarks in our constitutional development. But for Abacha we would never have gotten this in our books.
AFRICA TODAY: On Abiola.
Ojukwu; Yes, Abiola was also a friend. We were in SDP together. When I found him on the path of presidency, we had a lot of discussion... My subject was always: what do you have in store for your brothers and sisters from the east? Even though we couIdn't agree on specific things, we were certainly close. In fact, the last time I saw him he ate in my house. We had lunch together in my house in Lagos...
AFRICA TODAY: What's your dream for Nigeria?
Ojukwu; Ever since I was a child, the motivating factor has been the racial issue. I have always wanted Nigeria to be a beacon of hope for all black people on earth. I have always felt that if Nigeria does not fulfil that function for the Black man on earth, then we have not begun. Therefore, my dream for Nigeria is that Nigeria should become a safe haven for all black people on earth. We should not just be takers but givers _ to the development of God's earth. That in a nut shell is my dream for Nigeria.