OJUKWU SPECIAL
Visionary or Extremist?
03/21/12, Uche Ezechukwu
Biafran children play by the wreckage of a relief plane that crashed
Thirty years after the civil war, former Biafran leader Chukwuemeka Odumegwu Ojukwu remains a controversial and vibrant figure in Nigerian politics. As an intriduction to our interview with Ojukwu, Uche Ezechukwu looks back at his career and examines his current political standing
Since fate catapulted the ambitious 32-year-old army colonel to the centre of Nigeria's political stage in 1966, Chukwuemeka Odumegwu Ojukwu (the Ikemba of Nnewi) has somehow managed to stay in the limelight. It was through a twist of fate in the first military intrusion into Nigerian politics on January 15, 1966 that Ojukwu found himself at the epicentre of the turbulent events that were to write Nigeria's history in blood in the subsequent four years. But since then he has struggled to remain one of the key architects of social forces in the country.
If today, after 30 years, Ojukwu's image as the former warlord and rebel who undertook to lead the Biafran people out of their Nigerian nation is the one that has stuck, it is because not many people have bothered to set the record straight, as far as it concerns Ojukwu, Biafra and the civil war that raged between July 1967 and January 1970.
Most attempts at a dispassionate characterisation of Ojukwu have been hampered by the extremities of emotions with which the man is viewed by those who have encountered him or by the extremely exaggerated stories usually woven around him. What is undeniable is that Ojukwu is a man about whom it is impossible to remain indifferent. He is also the one Nigerian whose activities, no matter how private, have continued to receive very wide attention. Under such circumstances, an objective characterisation becomes a herculean task.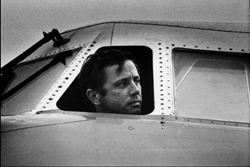 American pilot Ron Archer, en route to Biafra on an ammunition supply run for the Biafran army Circa 1968.
Those who know Ojukwu intimately testify that he is a simple, personable and friendly man who has managed to cover those traits with a thick veil of machismo, which he uses to keep his enemies at bay in the many battles which he has fought, and which he will perhaps continue to fight for the rest of his life. The underlying fact is that, despite his natural and acquired gentlemanly ways, like the late American general George Patton, he needs wars and battles to remain relevant and at his best. This paradox is not difficult to explain if one delves into the Ikemba's turbulent history and how even the most private aspects of his life have become the subject of great battles and controversies.
Some have charitably argued that Ojukwu was helpless in the face of most of the events that constituted his controversial contributions to Nigeria's distant and recent history. Others have insisted that he has been the conscious architect of most of the rocky paths he has walked.
From his early days as the son of an influential multimillionaire who had wined and dined with the mightiest in the land in Nigeria's pre-independence days, Ojukwu had the singular opportunity of growing up on the laps of great people like the late Dr Nnamdi Azikiwe and the colonial overlords. He was, therefore, able to appreciate . power at very close quarters. It was probably those early encounters that led him, after an education at British public schools and a masters' degree in political history from Oxford, to seek a career in the military. This was stridently opposed by his father, whose dream for his son with the Oxonian accent must have been of a shining career in the public service. A father of Sir Louis Ojukwu's calibre could not have wished less for his son at the time.
But the young Ojukwu was obviously better aware of the side his bread was buttered, and went to ingenious lengths to circumvent the executive obstacles placed on his road to the military by his powerful father. He decided to join the army through the back door. That was why he had to enlist by hiding both his identity and his qualifications, so that he could join as a recruit. When the ploy was discovered, the military had no choice than to enlist him into the officer cadet corps. And that was how Emeka Odumegwu Ojukwu became the first university graduate in the Nigerian army.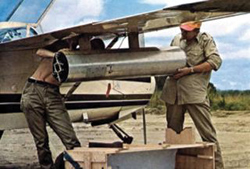 Arming a plane for war
Hence, during the military coup d'etat that overthrew the First Republic on January 15, 1966, Ojukwu, as a battalion commander in Kano, was strategically positioned to become one of its key players, having being pivotal to short-circuiting the ambitions of the five young majors who planned and executed the bloody coup. Ojukwu was a principal actor in handing power, not to the rump of the civilian authority, but to the late Major- General Aguiyi-Ironsi, who was to become Nigeria's first military head of state. And that was also how he was to become the military governor of the Eastern region. It was from that vantage point that he was to be manipulated by a combination of events and factors to lead his people to secede from Nigeria and declare themselves as Biafra. Today many people, perhaps out of facile hindsight, argue that Biafra was avoidable. A more mature - Ojukwu was only 33 then - and a less ambitious leader, they say, would have seen the Biafran adventure as a mission impossible for which a less extreme option could have been adopted. Many of the people who make such arguments, including very high-ranking individuals in the Biafran military and civil administration, allege that the imperial manner in which Ojukwu ran Biafra was suggestive of selfish and self-serving motives.
Such views have been and remain unpopular among the former Easterners and other groups of Nigerians, including such knowledgeable Nigerians as Professor Wole Soyinka, who insist that Biafra was inevitable, and might well happen again, in any part of the country, if the continued sense of margin- alisation and unjust denial of people's rights is not ended.
What's more, 30 years after Biafra, many in Nigeria are calling for an arrangement that would ensure a less firm grip by the central authority on the different geopolitical groups in the country Hence, when clamour for confederation and break-up by those who bitterly opposed them 30 years ago rends the air, Ojukwu merely permits himself a chuckle and savours the belated realisation of his compatriots that he might, after all, not be a war- monger but, rather, a visionary.
Those who still see Ojukwu in his warlords garb are ignorant of the great efforts the man has put into exorcising the ghost of Biafra to position himself for the battles that lie ahead inside Nigeria. The most significant of those steps was his decision to "abandon his people", on his return from his 13-year exile in 1982, and join the now defunct National Party of Nigeria. The NPN was the party of Hausa/Fulani oligarchy, which had prosecuted the war against him and his people and had sent him on exile. But like Dr Alex Ekwueme before him, the membership of the NPN had the magic impact of cleansing him of all his erstwhile anti-Nigeria credentials.
Ojukwu was to intimate to one of his aides three years later: "I knew the NPN chieftains would put a collar round my neck like a dog and drag me around the country to scare away their opponents. I knew that they would want to use me to score electoral victories. I allowed them to delude themselves about using Ojukwu, but little did they realise that I was using them more."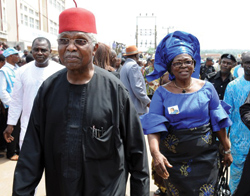 Former Nigerian Vice President Alex Ekwueme and his wife Beatrice arrive to attend the funeral service at St Michaels Catholic Church during the burial of Nigeria's secessionist leader Odumegwu Ojukwu. Getty Images
His argument was that, after what he went through at the hands of the NPN, including what he believed was his stage- managed defeat in the senatorial elections by an unknown candidate, he had paid his dues and had adeptly plotted his return to Nigeria. "Thereafter", he concluded, "no one would take me as anti-Nigeria or anti-north."
His planned grand re-entry was soured by yet another unwarranted incursion of the military into the national political landscape in 1983. Ever since, the successive military administrations with their bogus programmes have created an infertile environment for the Ikemba to prove that he can be as relevant in peace time as in war.
Remarkably, too, Ojukwu has refused to be confined to the dustbin of Nigeria's history where some elements in the military would want him to be.
What is significant is that no matter how different powers that be and their vested interests have attempted to make him and his socio-political contributions irrelevant, he has, like the proverbial beetle, refused to be crushed. Hence, in his unending search for relevance, he has continued to search out and embroil himself in successive social and political undertakings at different levels of the society The billows of dust raised over his marriage to the beauty-queen daughter of his political rival had hardly settled when he got embroiled in a brouhaha over his acceptance of the empty and non- existent title of Ezeigbo (the King of the Igbos).
Equally significant was his support of the annulment of the June 12, 1993 elections won by Chief M K O Abiola and his staunch backing of the early days of the Abacha regime. His presence and that of other prominent politicians from the east at the National Constitutional Conference helped to add colour and verve to the group that fashioned the 1995 constitution, which will be the next instrument for the civil governance of Nigeria.
Yet, while his forays into politics have never failed to attract attention and interest, it is doubtful whether he has been able to build any realistic or solid political machinery capable of galvanising a true political following for him.
Observers of his political manoeuvres insist that he has, surprisingly, remained content with a motley group of political fan club members who lack depth or commitment, instead of a grass-roots political structure. It is for that reason, according to observers, that most of the Ikemba's political aspirations have continued to evaporate like an unanswered prayer, giving rise to the fact that his recent attempt to form a political party failed to yield any fruit.
When, therefore, he alleged that his Biafran antecedents were responsible for the "refusal" of the Independent National Electoral Commission to register his party, no one in Nigeria or Igbo land took his allegations seriously. And the December 5 local council polls, in which he could not even ensure a victory for his party's candidate in his home ward or local government area, underscored observers' opinion that if the Ikemba intends to bring his vision to bear on non-military matters like civil politics, he must go back to the drawing board.
*This piece was first published by Africa Today in the January 1999 issue of the magazine.