GUINEA BISSAU
In the Grip of Confusion
06/09/12, Ajoke Abiola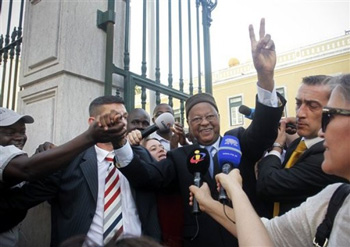 Ousted former Guinea-Bissau Prime Minister Carlos Gomez gestures to supporters.
The political situation in Guinea Bissau remains chaotic as the military sacks potential winner of its presidential election and installs the losing candidate.
Guinea-Bissau's April 12 coup was the fifth successful putsch the country has experienced since independence in 1974. On that day military leaders detained the Prime Minister and presidential candidate Carols Gomes Jr. (also known as Cadogo) and interim President Raimundo Pereira and then appointed failed presidential candidate Manuel Serifo Nhamajo to lead a proposed two-year transitional government. The Economic Community of West African States (ECOWAS) sees the move as "illegal" and it has also been strongly condemned by the UN Security Council, European Union, African Union and Community of Portuguese Speaking Countries (CPLC).
The self-declared military command, said in an April 13 communiqué that it struck because of an alleged secret agreement between Carlos Gomes Jr. and the Angolan government to "annihilate Guinea-Bissau's armed forces." To back its claims, the junta published a letter sent on April 9 by the prime minister to the UN Secretary-General asking for UN military intervention.
The coup has dealt a devastating blow to development, democracy and stability gains in Guinea-Bissau and the UN Security Council has threatened sanctions while the (CPLC) has proposed sending "peacekeepers" to the country.
However, there are those who believe opposition politicians pushed the military into taking action before Gomes' anticipated victory. As a member of the Balante, a strong ethnic group which dominates the army, and a long-time supporter of the military, Kumba Yala is thought to be a prime supporter of the current situation. Despite having condemned the military's actions, he signed the April 18 declaration of opposition leaders and military commanders calling for the dissolution of government institutions and the implementation of the two-year transitional rule.
Since 1994, no elected president in Guinea-Bissau has finished his mandate. But, the political problems predate that year. In 1956, Amilcar Cabral established PAIGC (African Party for the Independence of Guinea-Bissau and Cape Verde) and from 1963 to 1974, launched a war of independence. In 1973, PAIGC declared Guinea-Bissau independent of Portugal. The same year, Cabral, a nationalist politician and head of the independence movement of Guinea-Bissau and Cape Verde, was assassinated. A year later, Portugal granted Guinea-Bissau independence with Luis Cabral, Amilcar's brother, becoming president. But, in 1980, Luis Cabral was ousted in a military coup orchestrated by João Bernardo Vieira.
In 1992, Koumba Yala founded the PRS (Party for Social Reform) and in 1994, the first free elections were held leading to the election of João Bernardo Vieira as president. From then till when the coup plotters struck on April 12, 2012, PAIGC dominated Guinea Bissau's politics.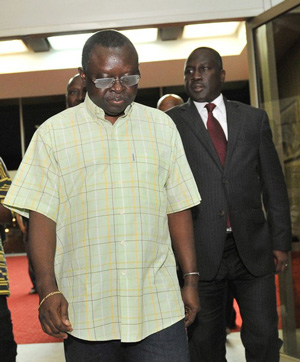 Guinea-Bissau's former Interim President Raimundo Pereira alongside Ivory Coast's Minister for African Integration Adama Bictogo. Carlos Gomez Junior and Raimundo Pereira were deposed in the Guinea-Bissau military coup of April 12, 2012.
The immediate cause of the present problem was reared its head in 1998 when Vieira sacked army Chief of Staff General Ansumane Mané, leading to a mutiny. A military junta led by Mané started a civil war and the following year, the military junta took control of Bissau, the capital, and President Vieira sought asylum in Portugal. Malai Bacam Sanha of PAIGC then became president in May 1999. But, in November 1999, the transitional government organised elections in which PAIGC lost control of the National Assembly for the first time. PRS, under Koumba Yala, won 38 seats and became the dominant party in the assembly.
In January 2000, presidential elections were held pitting Yala of the PRS against Sanha of the PAIGC, a fierce opponent of Vieira. Yala won with 72 percent of the vote and his victory was seen as progress for the Balante ethnic group as he became the first person from the ethnic group to lead the country. Yala appointed his kith and kin to positions of power and under his rule many members of the armed forces were promoted to become generals. That same year, General Anusmane Mané rejected the post offered to him by Yala's government, including adviser to the head-of-state, preferring to stay independent. In November he was killed by Guinea-Bissau's forces.
By 2001, President Yala's rule had become characterised by chronic political instability as he constantly sacked ministers and reshuffled his government. Between 2001 and 2003, four prime ministers were appointed and sacked. Political crisis then set in. The International Monetary Fund and World Bank suspended aid due to poor financial accounting by government.
The situation worsened in 2002 when President Yala dissolved parliament and called for legislative elections but they did not take place and the country remained without a government for several months. Supreme Court judges were also sacked.
In September 2003, a military coup led by General Verissimo Correia Seabra ousted President Yala, in a popular move. A transition government was arranged to prepare for elections and in the interim, Henrique Rosa was appointed president, and Artur Sanha, once secretary-general of the PRS, became prime minister.
Legislative elections were held as planned in March 2004 and PAIGC retook most parliamentary seats. A new government was formed under the leadership of Carlos Gomes Jr. as prime minister.
In October 2004, a group of soldiers led by Baoute Yanta Na Man attempt a failed coup. General Seabra, now chief of staff of the army, was killed by a group of military rebels who were protesting against salary arrears and corruption in the military hierarchy. General Tagme Na Waie, an ethnic Balante, was appointed to replace Seabra.
In 2005, João Bernardo Vieira returned to the country from exile in Portugal to participate in presidential elections, with financial backing from Guinea and Senegal, and support from the military. In the June elections, PAIGC's Malam Bacai Sanha squared off against Koumba Yala and for the first time against João Vieira who ran as an independent candidate. Bacai receives the largest number of votes but not enough to avoid a second round. Yala, who came third in the first round, went on to support Vieira and Vieira became president for the second time. International observers adjudged the elections as fair and transparent.
But, the military, under Chief-of-Staff Tagme Na Waie, ensured President Vieira never forgot that it was still a powerful political force and that Vieira required its support to hold on to government .
In October 2005, President Vieira sacked PAIGC Prime Minister Gomes Jr. who was nominated by the assembly, citing "personal reasons". After announcing on the radio that the president ordered the president ordered the assassination of old members of the military junta that deposed him in 1999, Gomes fled to the UN Peacebuilding Office in Guinea Bissau until President Vieira could guarantee him his security. A month later, President Vieira appointed Aristides Gomes, former PAIGC deputy chairman, as prime minister.
In January 2007, Admiral Mohamed Lamine Sanha, chief-of-staff of the navy, was killed. Sanha, an ally of Ansumane Mané who led a military rebellion against President Vieira in the 1998 civil war, was implicated in several coups against the government.
In March of the same year, parliamentarians formed a majority coalition and the three major parties, PAIGC, PRS and the United Social Democrat Party (PUSD) signed a pact meant to create political stability. The pact empowered them to remove Prime Minister Aristides Gomes who was nominated by Vieira after the sacking of Gomes Jr. and the voting in of a new prime minister, Marthinho Ndafa Cabi. Western donors welcome the pact and started to re-engage with the country after a period of relative isolation.
In July 2007, a tribunal declared the resolution making former Guinea-Bissau President Koumba Yala head of the PRS "null and void".
However, by February 2008, PAIGC had withdrawn its backing from Prime Minister Cabi, ostensibly to avoid acts of indiscipline threatening cohesion and unity in the party.
A month later, the country's legislative elections were postponed and in April 2008, following the end of the mandate of the legislature on April 21, President Vieira passed a temporary constitutional amendment to allow the continuation of parliament until elections later in the year. The president also granted amnesty to individuals in the military and civilians who allegedly committed crimes from 1980 to 2004.
In July 2008, PAIGC left the "Pact of Stability" coalition government and in March 2009, President Vieira was shot dead by soldiers several hours after a bomb attack killed General Tagme Na Waie, the army chief of staff. A year later, three senior politicians were also killed by military police in what authorities called another failed coup attempt. finally, in July 2009, Malam Bacai Sanha was elected president.
Around April 2010, there were rumblings again as Carlos Gomes Jr. was held for many hours by military officers. Admiral José Zamora Induta was also arrested and imprisoned, as was Colonel Samba Diallo, communications chief for the armed forces.
The regular flashes of restiveness in the country led to the signing of a Guinea-Bissau and Angola agreement for the deployment of 200 soldiers as part of an Angolan technical-military cooperation mission (MISSANG) created to support security sector reform in Guinea-Bissau in December 2010. In March 2011, Angolan troops were deployed to Guinea Bissau.
Meanwhile, health challenges faced President Sanha and he was evacuated to Val de Grâce Hospital in France last November. A month later, there was a big controversy when a plane full of cocaine was apprehended in the country. On December 26, 2011, Rear Admiral Américo Bubo na Tchuto was arrested, while General Buota Nan Batcha was wounded and arrested. International police observers linked both the army and navy chiefs of staff to the drugs trade.
On January 9, 2012, President Sanha died in France and Raimundo Pereira, speaker of parliament, became acting president in line with the constitution. Presidential elections were to take place on March 18, 2012, but former military intelligence chief Colonel Samba Diallo was assassinated by a group of soldiers just hours after the polls opened.
The election results showed that Carlos Gomes Jr., prime minister until February 2012 and the PAIGC's candidate, polled 49 percent of the votes cast; Koumba Yala, the PRS candidate, 23 percent; while independent candidate Manuel Serifo Nhamadjo came third with 15 percent of the votes.
But, in a bizarre twist, Gomes Jr. and Raimundo Pereira, speaker of parliament and acting president for the transitional period, were arrested, April 12 in an apparent coup d'état.
How to break the impasse remains a big problem for ECOWAS and Africa.