AFRICA TELECOMS TODAY
Waiting for Etisalat
06/26/08, Biodun Omojola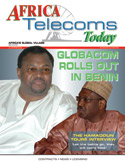 A new GSM company will soon roll out its services in Nigeria.
Logistics problems coupled with last minute cancellation of already done deals have contributed to UAE-owned Etisalat's failure to roll out its services in Nigeria as scheduled. More than one year after Mudallah Development Company, also of the UAE, secured Nigeria's fifth GSM license, rollout is still delayed. MDC paid $400 for a 15-year renewable Unified Access License, to be operated by Etisalat, which owns 40 percent of the Nigerian license. The problems include the late arrival of one of Etisalat's vendors' equipment and the backing out, of some Nigerian operators, from earlier agreements for joint use of existing infrastructure, notably service masts.
To start operations effectively, Etisalat had contracted three vendors - Alcatel-Lucent, Nokia-Siemens and Huawei - to supply and install equipments in western, eastern and northern Nigeria respectively. Starcomms, Mtel and Multilinks were also contacted for co-location agreements. Although agreements were reached, they were later rescinded at the last minute. Co-location involves the joint use by various telecom companies of infrastructure owned by one operator. Etisalat's plan was to co-locate with other operators in various sites in Lagos. With access to the sites denied, Etisalat was forced to look for fresh sites, called "green fields" in telecom parlance. This delayed its rollout planned for the first quarter of 2008.
The operator secured 50 green fields and 24 co-location sites, mostly provided by 21st Century, Helios Towers and MTS First to tentatively cover Lagos state. With the problem of the sites solved, it then faced the problem of Alcatel-Lucent, contracted to service western Nigeria, whose equipment had failed to arrive. To solve this, Huawei's equipment, meant for the north and which had arrived earlier, was deployed to Lagos. Alcatel later swapped its own equipment with Huawei's when it finally arrived.
At press time, work had reached an advance stage and rollout is expected very soon. However, this cannot be said of the eastern Nigeria end which Nokia-Siemens is handling. Africa Telecoms Today has it on good authority that Etisalat is not impressed with Nokia-Siemens' pace of work in eastern Nigerian.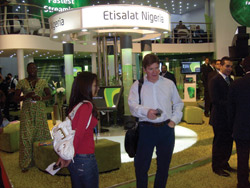 Nevertheless, Nigeria is now effectively under the green colour of Etisalat, which is present in 16 countries in Africa, the Middle East and Asia and has an aggregate subscriber base of more than 60 million. However, there is a marked difference between the Nigerian market and the 15 others. The Arabic inscription seen on the name Etisalat in other countries is not seen in Nigeria. Nigeria is very conscious of religious writings and signs and Etisalat appears to have learnt quickly that removing its own will make it far more acceptable across Nigeria. The removal of the Arabic inscription is a small price to pay for the expected windfall Etisalat stands to gain as its entry is expected to intensify competition in Africa's second largest economy, but with a population of 140 million, its biggest market.
Apart from Nigeria, Etisalat's latest market is Egypt, which it entered after paying $2.9 billion to secure that country's third mobile license. It now has 3.1 million subscribers, already closing the gap on existing operators, less than one year since its rollout in a market that is considered very competitive. So confident is Etisalat that it has projected a subscriber base of 10 million achievable in two years. There are already a number of positive indicators that this number will be surpassed before the time frame. Etisalat, as if to reinforce its impressive operations in Egypt, had an impressive stand at the recently concluded ITU Africa Telecom 2008 conference.
With the unified license it secured in 2007, Etisalat can provide fixed-lined and GSM 900/1800 mobile services in Nigeria. However, for now it is focusing on mobile services in order to exploit consumer dissatisfaction with existing operators. Poor service delivery has made the NCC to request compensation on behalf of subscribers which the operators have agreed to pay.
No doubt subscriber base will increase dramatically as Etisalat spreads its service across the country. Giving Nigerians' penchant for trying new services, it will no doubt enjoy patronage which may wane if service delivery is not better than others. But if service is excellent, other operators' loss will be Etisalat's gain.