AFRICA OIL & GAS TODAY
Plugging Energy Shortage
08/08/11, Biodun Omojola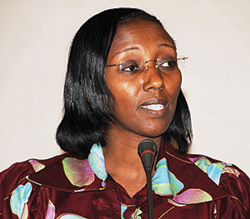 Energy and Water Minister Coletha Ruhamya
Rwanda hopes to increase power supply to its people using geothermal, solar and methane to fire its energy ambition.
Rwanda is set to double its energy production in the next one year by tapping into geothermal, solar and methane gas to bridge the existing power deficit that is increasingly piling pressure on the economy. Rwanda's energy ministry plans to increase the number of connections to the national grid from the current 120,000 to 300,000 households by 2012 and increase the total installed power generation capacity to 130MW. Rwanda's installed capacity is 78.60 MW made up of 64.55MW (local) and 14.5MW (imported). Only 15 percent of the country's population of 10 million has access to electricity.
However, the government targets at least 1,000MW on-stream by 2017, with 50 percent of Rwandans having access to electricity. "We have decided to have our own small 'quick win' projects - such as peat energy, which should generate 15MW. We will start drilling for geothermal, which should give us about 10MW, and the methane gas project will give 25MW next year," said Energy and Water Minister Coletha Ruhamya. Recently, the Kivuwatts project, which will allow extraction of methane gas from Lake Kivu in Western Rwanda, received a World Bank guarantee of $140 million against political risks. The $325 million gas-to-power project owned by Contour Global, a US based oil and gas firm, is expected to generate 100MW if completed on schedule in 2012.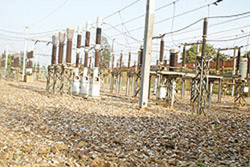 Generating electricity in Rwanda
The ongoing projects are expected to generate an additional 60MW in the next year helping to bridge Rwanda's energy gap in the short term and ultimately reducing high energy costs in the long term as the country reduces its dependency on petroleum products like diesel for energy. Rwanda currently imports approximately 17 million litres of oil monthly. Rwanda's current high energy costs are a result of high production costs. "About three-quarters of Rwanda's production is based on diesel; they have to import diesel using vehicles; it is really against any kind of economic reason but Rwanda has no option," according to Michel Arrion, head of EU delegation in Rwanda. The high cost of energy - electricity costs $0.22 per kWh compared with $0.08-$0.10 in the rest of the region - is raising the cost of doing business in Rwanda, according to the World Bank.
Rwanda is banking on the Rusizi III hydro power project to increase national energy production and bring investment into the country. The multi-million dollar project is a joint venture between Rwanda and its neighbours Burundi and DR. Congo. Already series of meetings have been held by development partners, the private sector and government representatives from the three countries. The Rusizi III hydro power project is expected to be completed by 2016, representing the first public-private sector energy engagement in the Great Lakes region that will supply electricity to the three countries.
The project is coming at a time when more voices are asking for increased investment in the energy sector to spur growth in the great lakes region. America, through the African Growth Opportunities Act (AGOA), and China have both called for more investment saying that it would facilitate the setting up of industries that will add value to final products produced in the region. China believes by investing in energy and promoting joint ventures, Rwanda would attract Chinese investors. America argues that investment in energy is necessary for value addition to boost export receipts from Africa's agricultural products.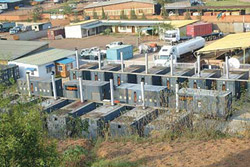 Fuel powered generators in Glkondo
So far all is looking bright for Rwanda as it hopes to increase its power generation capacity. Its annual budget for energy for 2011/12 was increased by 30 percent to Rwf98.6 billion ($15 million) from Rwf75.8 billion (about $12 million). The increase is meant to cater for the electricity access roll-out programme to provide access to electricity to additional 65,000 households in all provinces and Kigali. Government intends to continue the construction of Nyabarongo power plant that will generate 28 MW as well as carry out exploratory drilling of geothermal resources in Karisimbi. Other projects include production of 15 MW of power from peat, procurement and installation of additional 10MW of thermal generators to meet a shortfall in power supply and the implementation of biogas project as a substitute for charcoal.