AFRICA OIL & GAS TODAY
New Economic Environment
03/31/09, Biodun Omojola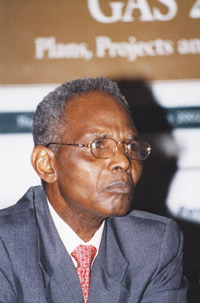 Nigeria's Petroleum Resources Minister Rilwan Lukman
It is a euphemism for the global economic meltdown, but many analysts believe that Nigeria's oil and gas industry is still strategically placed to survive some of its harsh effects.
No one, despite the past cycles of boom and burst, expected the price to go burst when it did. Before the bubble busted, crude oil retailed at an unbelievable price of $140 per barrel driven, in part, by the huge appetites of emerging economies like India and China. Increased consumption from those countries contributed to prices rising from around $20 a barrel, at the start of 2002, to peak above $147 in July 2008. A collapse of demand, a result of the current economic meltdown, saw prices crash to about $40. This sharp drop in prices, resulting from what analysts have termed the "New Economic Environment", a reference to the global economic crisis, is raising serious concerns within the global oil industry.
For Nigeria, the realization that oil prices may not reach the level it was five years ago is a rude shock. Nigeria relies heavily on oil for its revenue. In 2008 it accounted for 80 percent of government revenues and 95 percent of export earnings. This year's budget is benchmark on $45, although analysts say the country's spending plans actually require much higher oil price if Nigeria is to avoid running a substantial deficit. Already advice is coming from those who should know. Ann Pickhard, Shell's regional executive vice president, exploration and production, for Africa, believes Nigeria must tighten its belt just as other oil producers across the world are doing. Shell is the oldest IOC in Nigeria and the largest producer contributing about 40 percent of total production. She also says Nigeria cannot afford to be "complacent" under the new realities.
However, despite the effect the drop in price is having on oil producing countries, Pickhard says Nigeria has some advantages. "The average cost of producing a barrel (taking onshore and offshore together) is competitive compared to some regions. It (Nigeria) is strategically located relative to major markets. And the oil is good quality." Whether these advantages will stand Nigeria in good stead remains to be seen as production continues to fall. The Niger Delta region where Nigeria's oil and gas is produced is a hot bed of militant activities and they continue to disrupt production by blowing up oil infrastructure and kidnapping oil workers. So far almost all expatriate oil workers have been withdrawn from their sphere of operations by companies operating in the region.
Nigeria, according to Pickhard, "needs large investments to reverse that decline and bring online new projects." Shell, on its part, says it will invest, in 2009, "between $31 and $32 billion" an amount similar to what was invested last year. What is different in this investment drive, according to Pickhard, is that much of the spending will go to projects already approved or sanctioned.
In as much as investments are coming in, there is urgency on the part of government to sanitise the sector. Government has said it will reform the sector but industry sources say the reforms should be "thorough and effective". Issues such as funding and security should be resolved while industry uncertainties should be eliminated and transparency improved. Already, government has begun shaking the oil industry tower. Abubakar Lawal Yar'Adua, former group general manager of the Nigerian National Petroleum Corporation (NNPC) has been removed, while Rilwan Lukman, a former petroleum minister, has returned again to the industry as minister. Replacing Abubakar Yar'Adua is Muhammad Sanusi Barkindo, formerly coordinator, special projects at the NNPC. Barkindo, a 23-year veteran of the industry, has held many senior positions locally and internationally at the NNPC. He was once the secretary general of the Organisation of Petroleum Exporting Countries (OPEC).
But the reforms may not be as effective now with oil prices below $50 a barrel. All the same, changes in the sector are being welcomed because there is, according to analysts, a greater need for oil operations to be transparent. Oil majors believe the reforms would help tackle the inefficiencies in the system. It is expected that the reforms would lead to increased production by bring on stream shut in production estimated at about one million bpd.
While oil may be having global hiccups the same can not be said of gas. Global demand for gas is on the increase although a moderation in demand is expected because of the economic downturn. Demand is expected to grow by 2.1 percent, according to the International Energy Agency (IEA) Reference Scenario, from 2,854 billion cubic feet (Bcf) in 2005 to 4,779 Bcf in 2030. Decline in the global GDP growth may moderate this, but with an expected turn around in global economy from 2010, demand is also expected to increase. On the gas level, it certainly looks rosy for Nigeria as it has been tipped as the world's next natural gas powerhouse. "Nigeria is very well located as a supplier for major markets like the U.S, Mexico and Europe," says Guy Maurice, head of Total Nigeria.
There is the potential for future growth in LNG production in Nigeria since the country has some of the biggest gas reserves in the world - about 180 tcf. Its LNG sales in 2007 were 16.4 metric tonnes, about 10 percent of global total. Nigeria is part of the Atlantic basin producers which include Algeria, Egypt, Trinidad and Tobago, Norway, Equatorial Guinea and Libya. These producers, in 2007, had a combined capacity of 67 metric tones per annum. According to Chima Ibeneche, managing director, Nigerian Liquefied Natural Gas (NLNG), Nigeria, in a few years, has the potential of tripling LNG output by adding 40 million tonnes to the current 22 million tonnes if the proposed Brass LNG and Olokola LNG and planned expansion at NLNG are executed.
However there are various roadblocks on the way to realising this. Ibeneche says "predicting growth in the LNG supply chain is quite difficult because many projects don't happen as they are planned. There are many factors including the current financial meltdown that can slow down the achievements of these projects." He cited examples including two floating LNG projects and a second Bonny Island plant as projects delayed by external factors. He added that "with the global uncertainties relating to demand and the funding of Nigerian LNG projects, the economies will need to be re-evaluated to determine the economic viability and profitability of any and all projects".
As it is, the Final Investment Decision (FID) on the Brass LNG project which could add 10 million tonnes per year to Nigeria's capacity is yet to be made. Its shareholders were to make a decision by 2006 but a partner, ConocoPhillips, called for a postponement following increasing attacks on oil workers and installations. Another partner, American oil major, Chevron, also pulled out to focus solely on the Olokola project. However, its place has been taken over by French oil giant, Total. Other partners include Italian giant Eni and the NNPC. Besides producing gas, the Bayelsa State based plant will also produce 2.5 million tonnes of Liquefied Petroleum Gas (LPG) also known as cooking gas.
The "New Economic Environment" will no doubt affect the global oil and gas industry. As Shell's Pickhard sees it, it is the "countries that took advantage of high oil prices to push their programmes forward that have locked projects in during the good times." Those that failed to consolidate during these "good times" will be affected by the hard times. For Nigeria, though, it must "tackle inefficiencies in the system that slow the country's oil and gas production, it must get the gas master plan correct to unlock the full value of the country's reserves and meet the country's growing energy demand and it must maximize the benefits of the industry to ordinary Nigerians," Pickhard says.