AVIATION
Muscle Flexing over Price Fixing
06/09/12, Biodun Omojola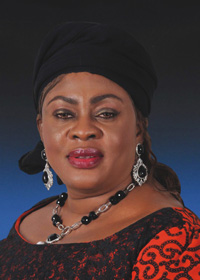 Nigerian Aviation Minister Princess Stella Oduah
Nigerian authorities are at loggerheads with British airlines BA and Virgin- over price gouging on the Lagos-London, Abuja-London routes.
Not since the heady days of the military era in Nigeria's has the British Airways been under intense government searchlight. Back then the government of Sani Abacha banned the carrier from flying into Nigeria at the height of a diplomatic row between both countries. The ban so affected the airline's bottom line that it craftily designed a way to keep serving the huge Nigerian market. It entered into an arrangement with Ghana Airways to fly Nigerian passengers to Accra for onward journey to London. Now BA, as it is popularly known, is, again, facing the might of the Nigerian government.
Although the past impasse was political in nature this current standoff is purely economic. It was brought about by allegation of price gouging on the lucrative Lagos-London route. It has been established that fares charged by BA and the other British airline flying into Nigeria, Virgin Atlantic Airways (VAA), is the highest in this part of the world. BA's economy fare into London is $1331.73 while VAA starts at $1,039.45. In nearby Ghana, a slightly longer distance and flying time to London, the fare is less.
But it is in the high-end business and first class categories that the differences are most glaring. A first class Lagos-London return ticket costs $10,816; from Abuja, it costs $10,144. The same booking on the Accra-London route is $4,798. A business class Lagos-London return ticket costs $7,370 while on the Accra-London route it is $4,098. As a result of these huge disparities, Nigerian passengers now travel to London through Accra. Not only that, it has been revealed that a London-New York return economy ticket costs about $625; London-Dallas, $787; London-Florida, $730, and London-Atlanta, $772. These are nine-hour flights. The cheapest return economy ticket from Abuja-London, a six hour flight, costs $1,200.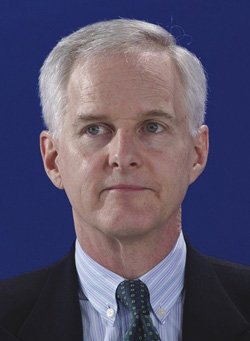 BA CEO Keith Williams
Since the Nigerian government got to know about the huge price differences both airlines including Air France have been under scrutiny from various authorities including the Senate committee on aviation. Air France is accused of tax evasion which is also a problem with foreign airlines operating in the country. Both British carriers appear to be introducing some flexibility to their ticket pricing partly because of the heat on them and probably also because of the introduction of another airline Air Nigeria on the Lagos-London route. With the carrier's inaugural flight on May 16 and its special promotional fares, other airlines including Arik Air - the other Nigerian carrier on that route- have also rolled out discounted prices.
The high price travelling Nigerians pay foreign airlines, especially the two British-owned carriers are well known and documented but the Nigerian aviation authorities have always turned a blind eye. At least until recently when it was officially revealed that Nigerian passengers flying on some foreign airlines pay as much as three times the price paid by passengers flying to the same destination from Accra, Ghana.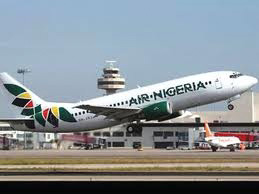 Air Nigeria, the new airline on the Lagos-London route. It's maiden flight to Gatwick was on May 16, 2012
So uncomfortable was the Minister of Aviation, Princess Stella Oduah, with this revelation that she gave all foreign airlines operating in the country a 30-day ultimatum, starting March 26, to review, downwards, their fares or face sanctions. Not only was the minister peeved, the National Assembly too was also irked. It, through the Senate Committee on Aviation headed by Senator Hope Uzodinma, ordered full investigations into the allegations against the foreign airlines. Uzodinma said "the prices given are completely out of range, it is unreasonable and exploitative and nobody should tell us not to do anything about it."
Because of this huge gulf in prices, Nigeria's aviation regulatory agencies have been accused of colluding with foreign airlines in the price scam. Aviation industry experts have argued that it is unheard of for foreign airlines to completely disregard the aviation rules and laws of a country in which they operate without the acquiescence of the regulatory bodies. In fact while adopting Senator Uzodinma's bill, Senate President David Mark said the problem was not just with the foreign airlines alone but also with the regulatory institutions. Aviation regulatory agencies include the Federal Aviation Authority of Nigeria (FAAN), Nigerian Civil Aviation Authority (NCAA) and the Nigerian Aviation Management Authority (NAMA).
A blanket accusation of regulatory agencies may be uncharitable, after all when the news of the allegation broke, it was the NCAA that demanded compensation from BA and Virgin Atlantic on behalf of Nigerian international travellers. However, a judicial review panel headed by retired Supreme Court Judge, George Oguntade, dismissed NCAA's case. NCAA asked both airlines to pay a N37.6 billion ($235 million) fine for alleged exorbitant and outrageous fares over the years. The panel was convened to decide the legality and fairness of NCAA's investigation, report and findings "with respect to the investigation into BA and VAA's collusion, deceptive, unfair and anti-competitive practices especially with respect to the Passenger Fuel Surcharge." Both airlines had denied any wrong doing and had insisted they would not pay any penalties. The panel agreed with the findings of the NCAA but could not uphold the fines because the violations, it argued, occurred between August 2004 and March 2006 when the law only prescribed a cease and desist penalty.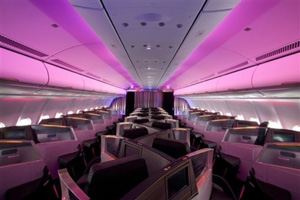 Business class is very pricey
The minister's order for BA and VAA to lower their fares in 30 days or face a ban, had it been implemented, would have come at a very high price for Nigeria. Britain had responded that retaliatory action would be taken against Nigerian airlines if a ban was imposed. A British High Commission spokesman claimed that only business and first class fares are more expensive in Nigeria than neighbouring countries because of the high demand for seats. The High Commission said banning BA and Virgin Atlantic would break bilateral air services agreement and "would cause potential foreign investors to question whether they want to put their money in Nigeria and have a long-term and damaging effect on Nigeria's growth."
Minister of Foreign Affairs Olugbenga Ashiru, advised that the matter should be handled without any diplomatic row. "It should be a commercial discussion and not dispute. What we have is a commercial dispute and what we see happening now is a failure of regulatory agencies to do their jobs. If the regulatory agencies had done their jobs very well, we would not have got to this stage. There is no justification for the rip off that Nigerians are going through. What is happening is price fixing and price fixing is punishable under U.S. and U.K. laws. What is the justification for business and first Class fares to range between $11,000 and $12,000 for a journey of five hours for London/Lagos/Abuja route?" Ashiru noted that the "Abuja-Lagos-London Business/First Class fares are the most expensive in the world and this is not defensible and if the regulatory agencies have been doing their work, we would not have got to this stage."
Oduah told the Senate aviation committee that her ministry discovered that both airlines colluded to fix outrageous fares on the London-Lagos and London-Abuja routes. She added that investigations carried out in the UK and US corroborated this. "It is common knowledge both airlines have admitted this conduct before authorities in America and the UK and that compensation is being paid to victims who were passengers during the period," said the aviation minister.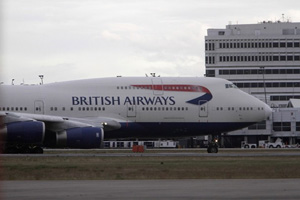 London-Lagos route is very lucrative for British Airways yet it is accused of price gouging
Although nothing conclusive so far has come out of the Senate committee sitting, both airlines have, no doubt, been shaken by Nigeria's insistence that prices must conform to what applies in nearby countries. The minister's tough stance that parity be restored is sure to hit them in their bottom line. The Lagos-London route is probably the most lucrative routes for both airlines. BA has been on this route for over 70 years. Considering how frequently Nigerians travel to the United Kingdom, the difference in prices, when calculated, must be staggering. It has been calculated that Nigeria loses about N3.7 billion yearly to the two airlines through arbitrarily high airfares.
But the aviation "war" is being fought on two fronts by Nigeria. Apart from the fare dispute, there is also an ongoing tussle over landing slots. Nigerian flagged Arik Air announced recently that it was suspending its Abuja-London daily flights because it was being prevented from getting arrival and departure slots at UK airports. Arik, since it began flying into London, has had problems with slots. Allegations have continued to surface that it is tactical way of limiting Nigerian flagged airlines from flying into London. A British High Commission spokesman however said "our understanding is that Arik is just unwilling to pay for cost of renting or buying landing slots."
For now the ability to determine the price of the Lagos-London route, long held by BA and VAA, has been challenged successfully. This is a huge step in check mating these powerful British carriers. But given the airlines defence that high ticket prices are because "traffic from Nigeria is heavier than other countries in Africa," there is the possibility in the not-too-distant future ticket prices will revert to its pre-Air Nigeria days. It has been suggested at the Senate committee hearing that Nigeria should establish its own airline as a means of checking the dominance of foreign airlines.
Nigeria is a big market and as Kolawole Olayinka, BA's country manager, told the Senate committee on aviation, there is nothing wrong with the price regime introduced in Nigeria as everything depends on the forces of demand and supply. With the establishment of a Nigerian airline there would be more passenger seats on the airlines and prices will crash. But establishing a new airline is one thing, the chances of it surviving, with Nigeria's recent history of running Nigeria Airways aground, is another. The safe bet is that the idea is a non-starter. And unless there are more flights into and out of Nigeria, prices are bound to remain high and more expensive than what obtains elsewhere in the world.